(EXPIRED) Part 2: Buy IHG Points with a 100% Bonus and Transfer to Aeroplan?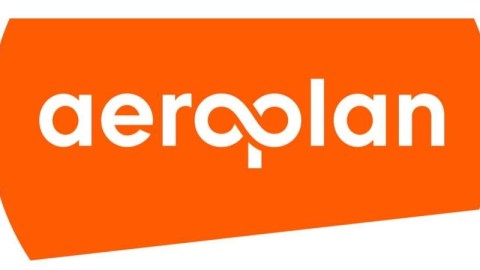 Part 2: Should You Buy IHG Points with a 100% Bonus and Transfer to Aeroplan?
Aeroplan is offering a promotion if you Transfer Hotel Points to Aeroplan Miles. See Picture Below. This offer might make sense to buy and convert, others not so much.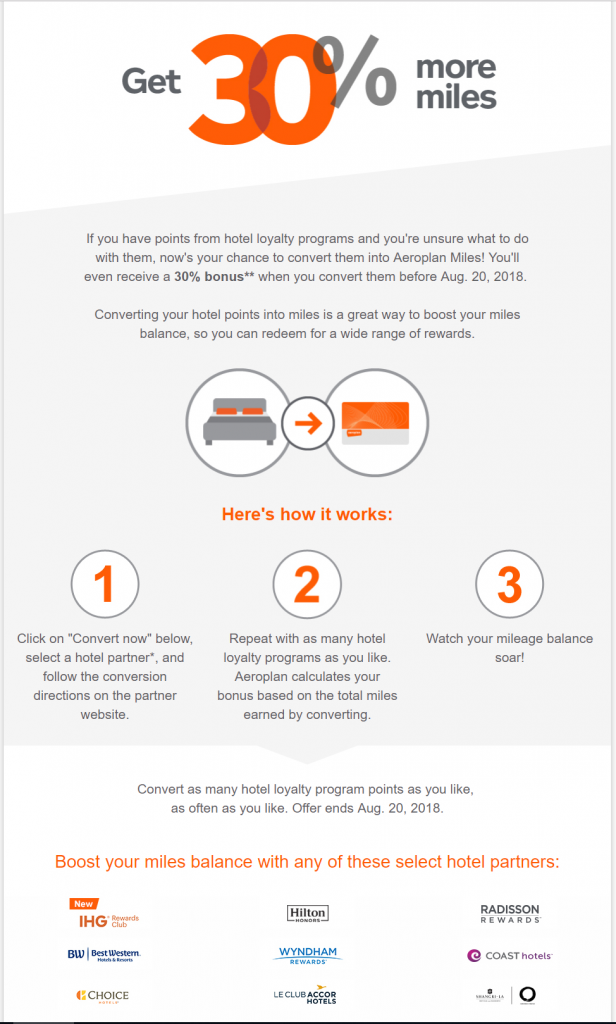 Did you Notice above that IHG Rewards Club is a Transfer Partner to Aeroplan and is included in this transfer Aeroplan Bonus of 30%. The strategy that I am about to show you I believe is only useful if you were to do this for business class/ first class. Alright lets get to it. Check out my first post, " Should You Buy IHG Points with a 100% Bonus?" After You have read that post, and if you are indeed targeted for the 100% IHG Bonus, buy yourself 200K IHG Points for $1000.00. You can currently transfer that 200k IHG Points to Aeroplan and Receive 40,000 Aeroplan Miles; however with this current promotion of a 30% bonus you will receive an additional 12,000 miles. Example 200k IHG Points Divided by 5 = 40,000 Aero plan miles. It takes 5 IHG points to recieve 1 Aero Plan Mile Which again would = 40,000 Aero Plan Miles. Additionally you would then recieve an additional Bonus of 30% More Aeroplan Miles. Instead of the current rate of 5 IHG Reward Club Points to 1 Aero Plan Mile, With this promotion it would work out to be about 3.8314 IHG Reward Points to 1 Aero Plan mile. If you want to take advantage of this promotion it ends 08/20/2018.
I Would use the 52,000 miles towards a flight in Europe Area 1. Redeeming Aero Plan Miles in Europe Area 1 includes Austria, Belgium, Denmark, France, Germany, Italy, Ireland, Luxembourg, Norway, Netherlands (Holland), Portugal, Sweden, Spain, Switzerland, United Kingdom. One-way business class awards to Europe Area 1 cost 55,000 Aeroplan miles. (See Couple Examples Below )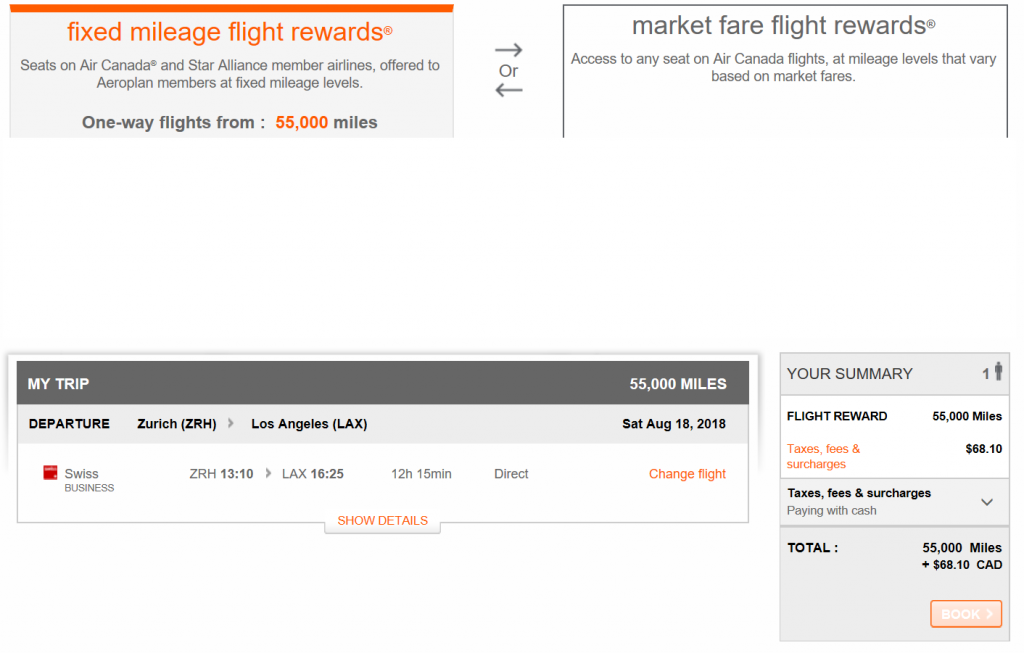 Fly Swiss – Zurich Switzerland to Los Angeles, CA ( And Vice versa) 55,000 Aeroplan Miles + $68.10 Canadian Dollars for Fees – Business Class LIE FLAT SEATS.
Another Example, Munich, Germany to Los Angeles, CA flying Lufthansa. 55,000 Aeroplan Miles + $469.00 Canadian Fees. The Only Issue I have here is the fees are much higher for Lufthansa. Lufthansa though offers a amazing Business Class and First Class. LIE FLAT SEATS AS WELL.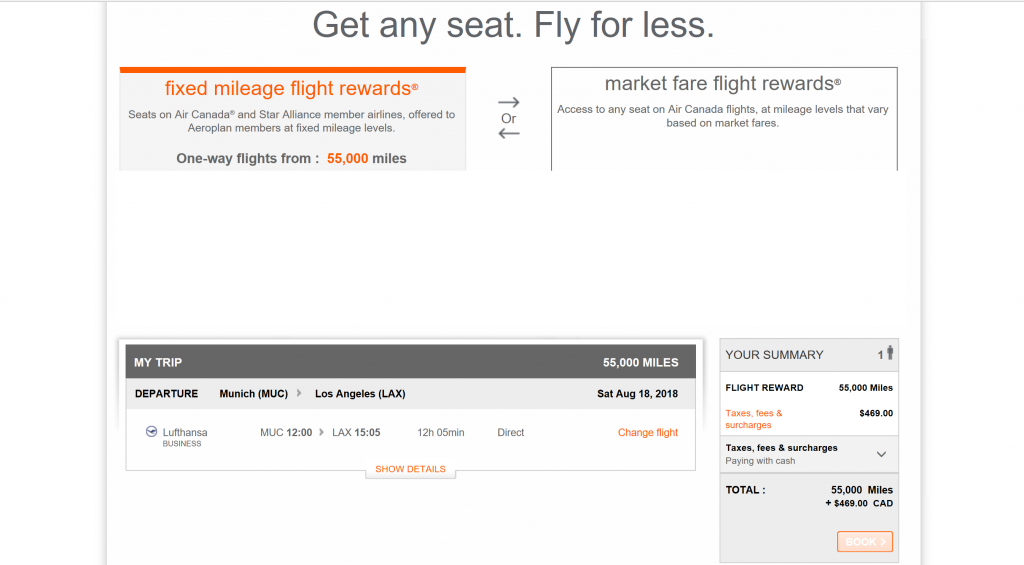 If you do not want to pay those high fuel surcharges fly Routes using the following airlines: United, SAS, SWISS, Turkish, and Brussels.
Lets see How Much you would pay CASH for the two example flights I have showed you above using google flights.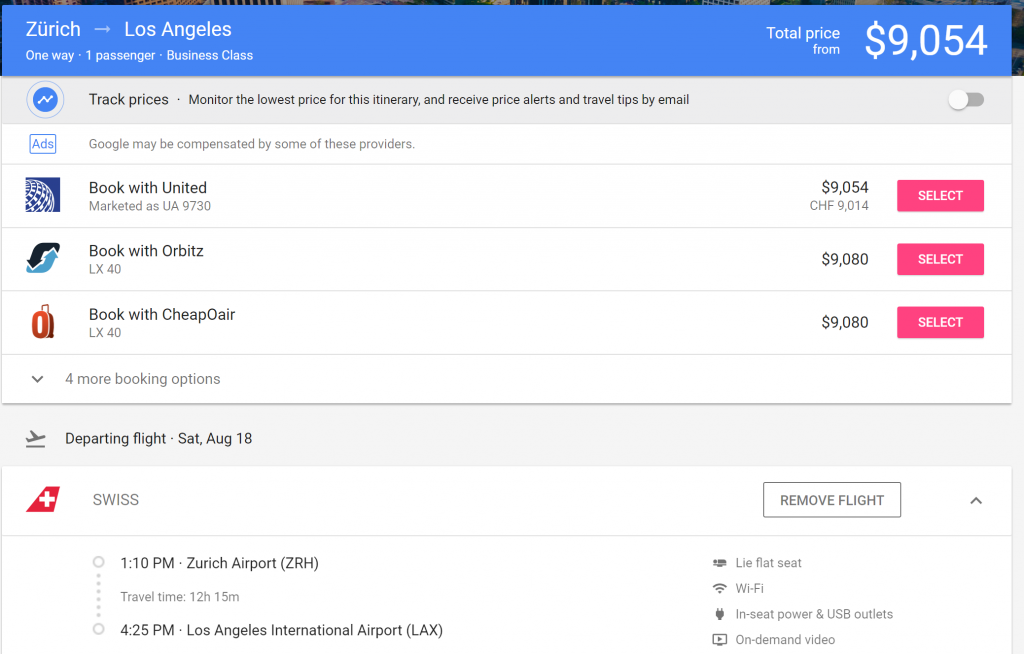 Zurich, Switzerland to Los Angeles, CA – $9054.00!!!!!!!!!!!!!!!!!!!!!!!!!!!!!!!!!!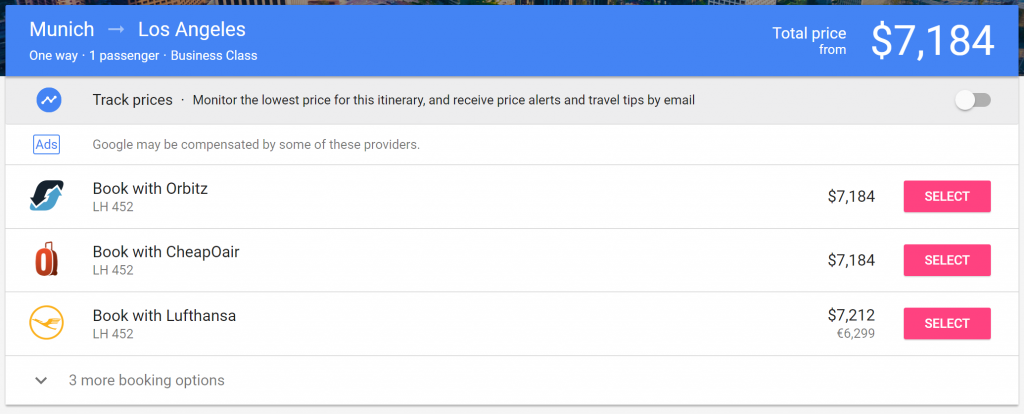 Munich to Los Angeles, CA – $7,184!!!!!!!!!!!!!!!!!!!!!!!!!!!!!!!!!!
52,000 Miles is not 55,000; However, if you Have American Express you can transfer the additional 3,000 Points 1 to 1 From American Express to Aeroplan. Aeroplan is a transfer partner of American Express. Again, 1 American Express Points will get you 1 Aeroplan Mile. If you do not have american express then Aeroplan will make you come up with the 3000 Miles Difference by paying cash for those 3000 miles. At this Points I am note sure what the cost of those 3000 miles are; however, I will find out shortly and update this post later.