Museum Hotel Cappadocia , Turkey Hotel Review – Top Hot Air Balloon Destination With Incredible Views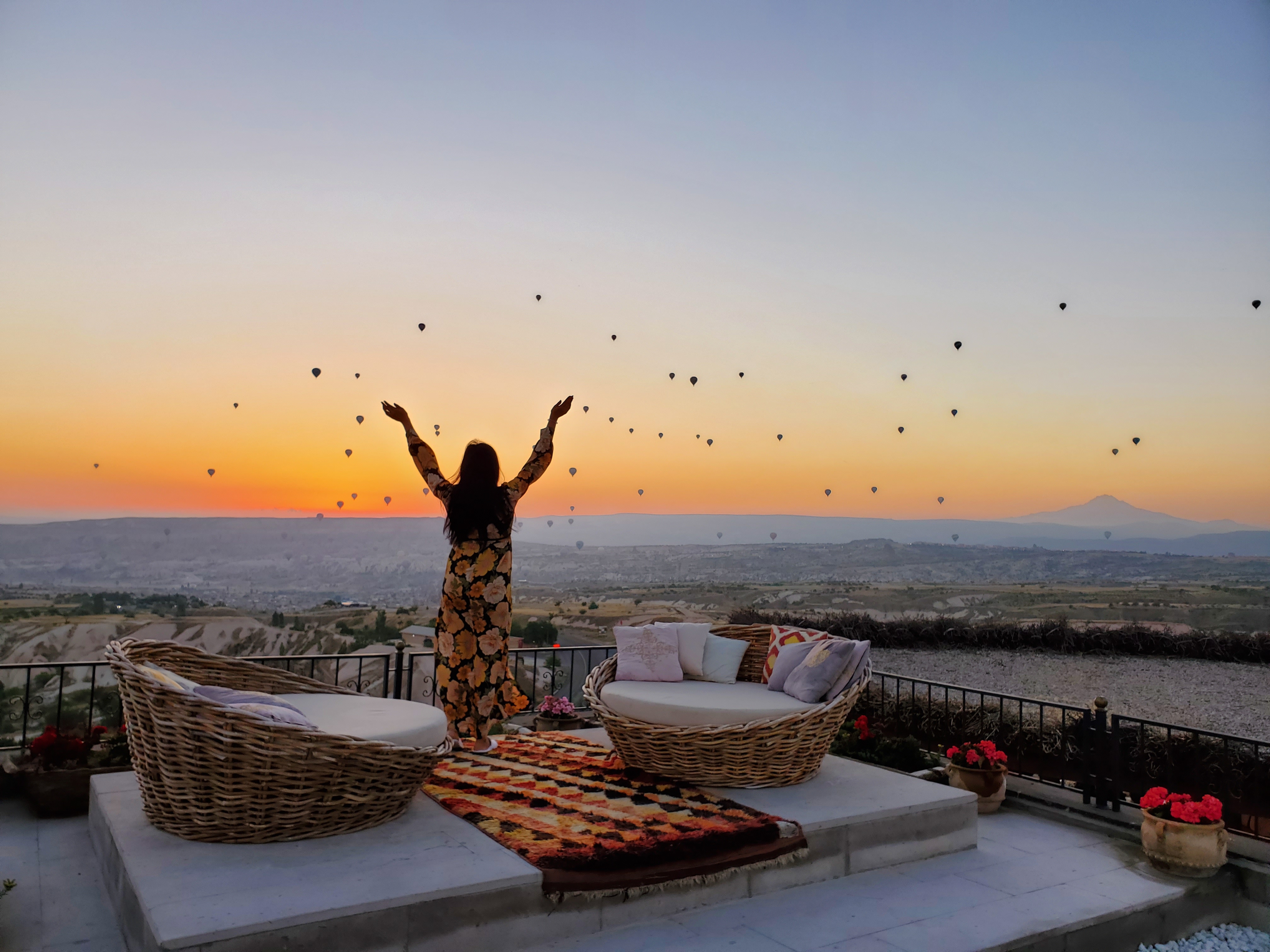 Hotel Review – Museum Hotel Cappadocia , Turkey – Top Hot Air Balloon Destination With Incredible Views
Museum Hotel Cappadocia is a Boutique Hotel located in Cappadocia, Turkey. The Resort is in a prime location and includes 30 Cave Rooms, some of the Cave Rooms include there own spa treatment rooms, individual red wine taps, and incredible views. The Hotel boasts its gorgeous views sitting atop a hill that overlooks the Cappadocia Region and is the perfect location for a jaw dropping background of the hot air balloons.
The Entrance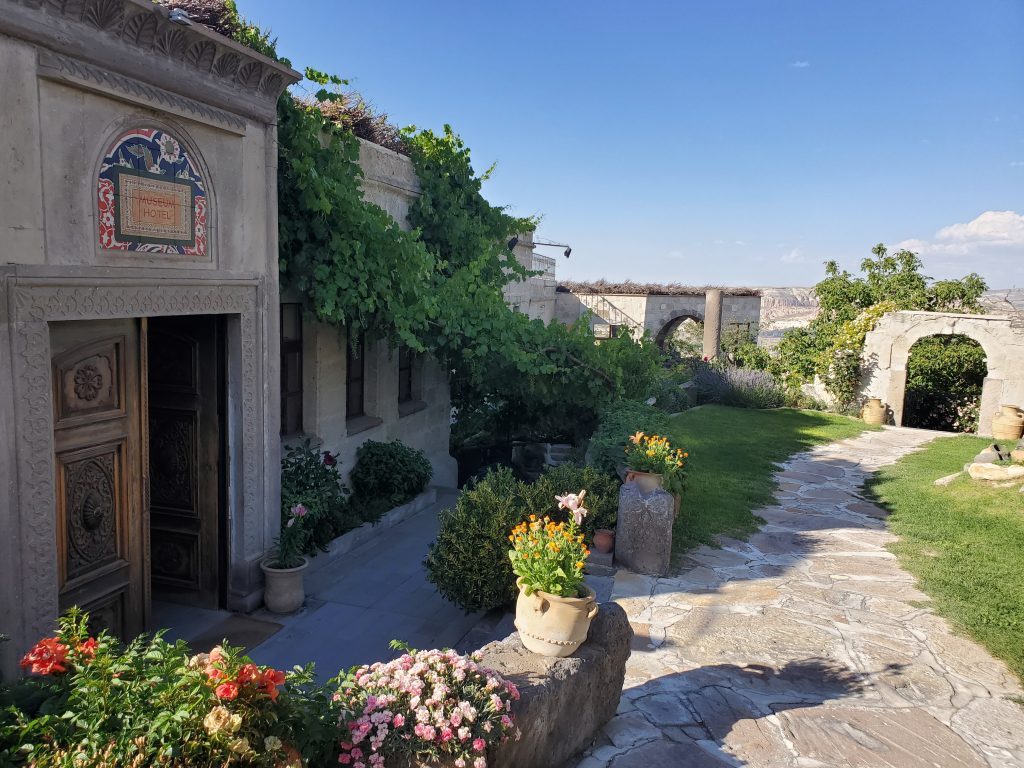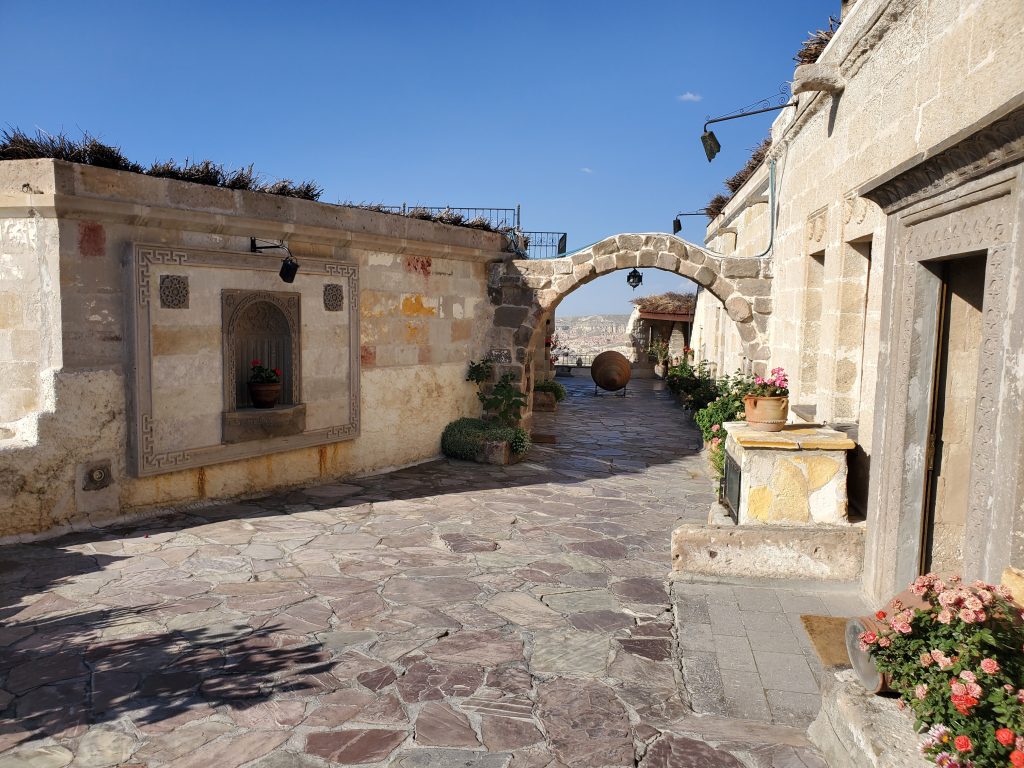 Main Courtyard / Infinity Pool Area Views
Most of your time will be spent in this area. The Views at this hotel are incredible! The View at this hotel differs from the hotels that sit in the town of Cappadocia. The Museum Hotel is located in Nevsehir which is a small town outside the town of Cappadocia. The views here at this hotel are more wide angle views versus the close up views that you will get in the actual town of Cappadocia. We did not get a chance to visit the hotels in the town of Cappadocia; however, we have heard that Cappadocia Cave Suites along with others boast great close up views of the balloons! Wherever you choose, waking up bright and early is mandatory to catch these breathtaking views! The small bar near the pool area is also charming (not pictured) !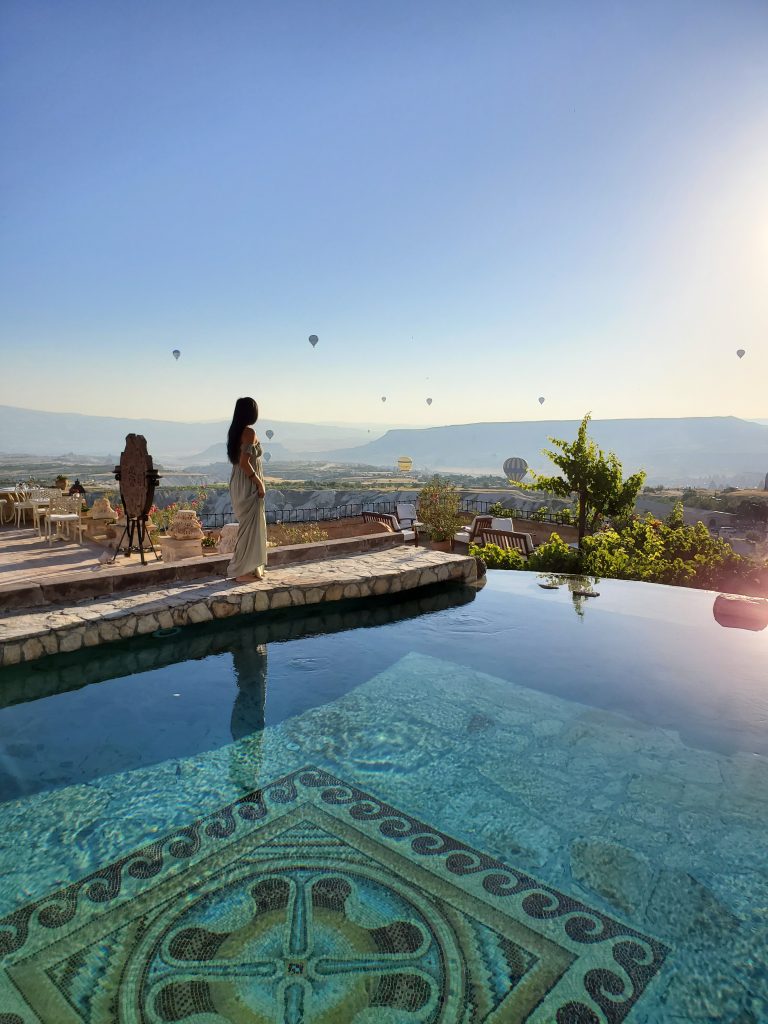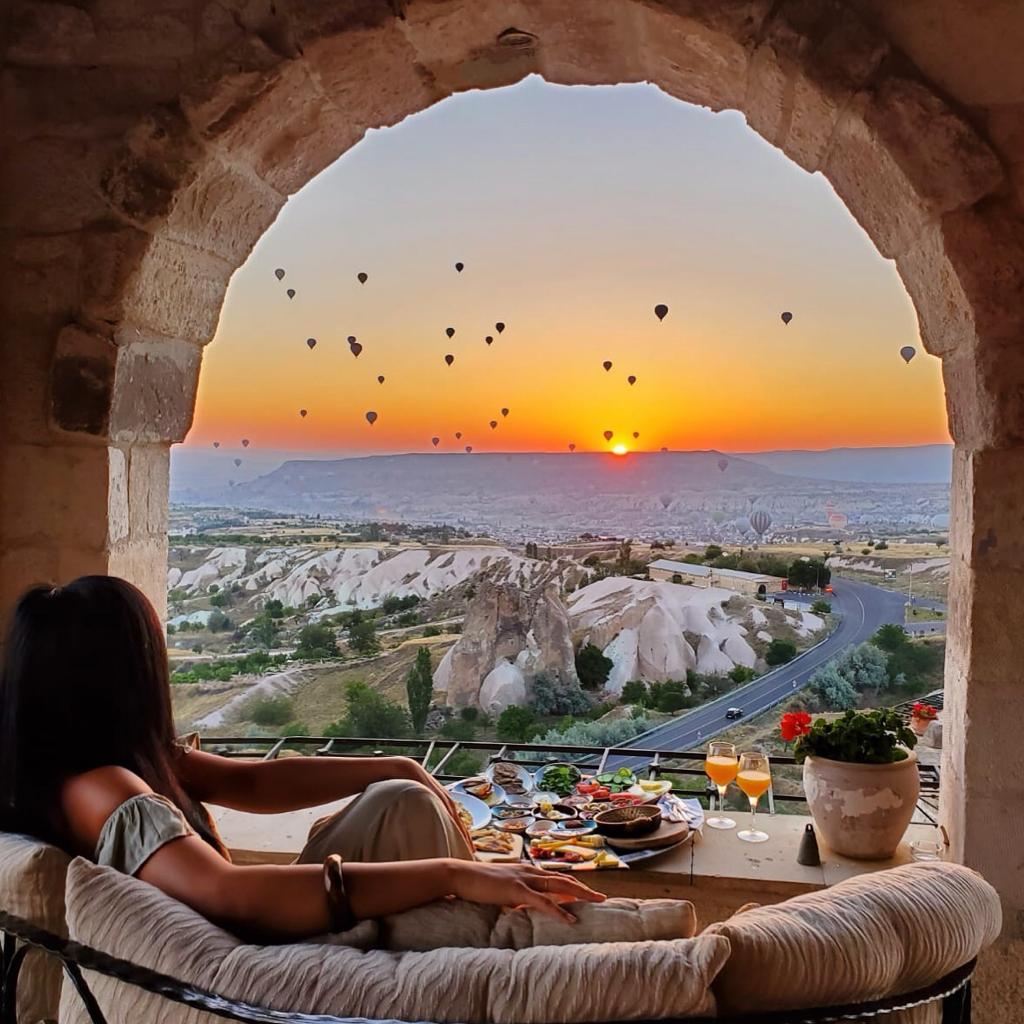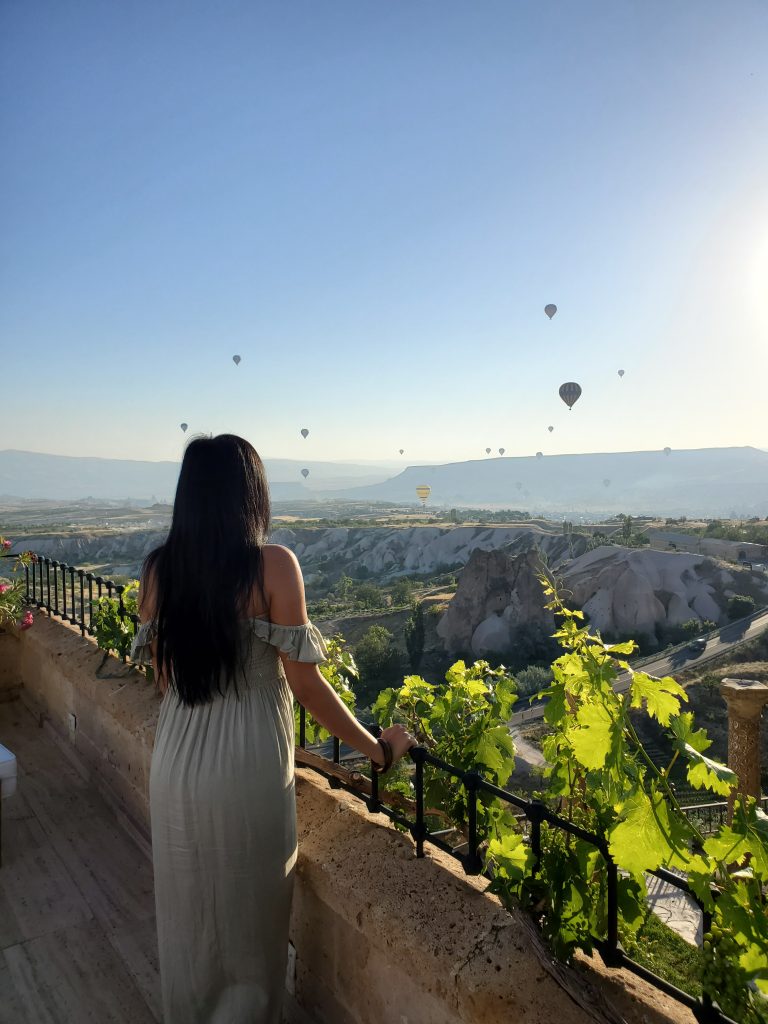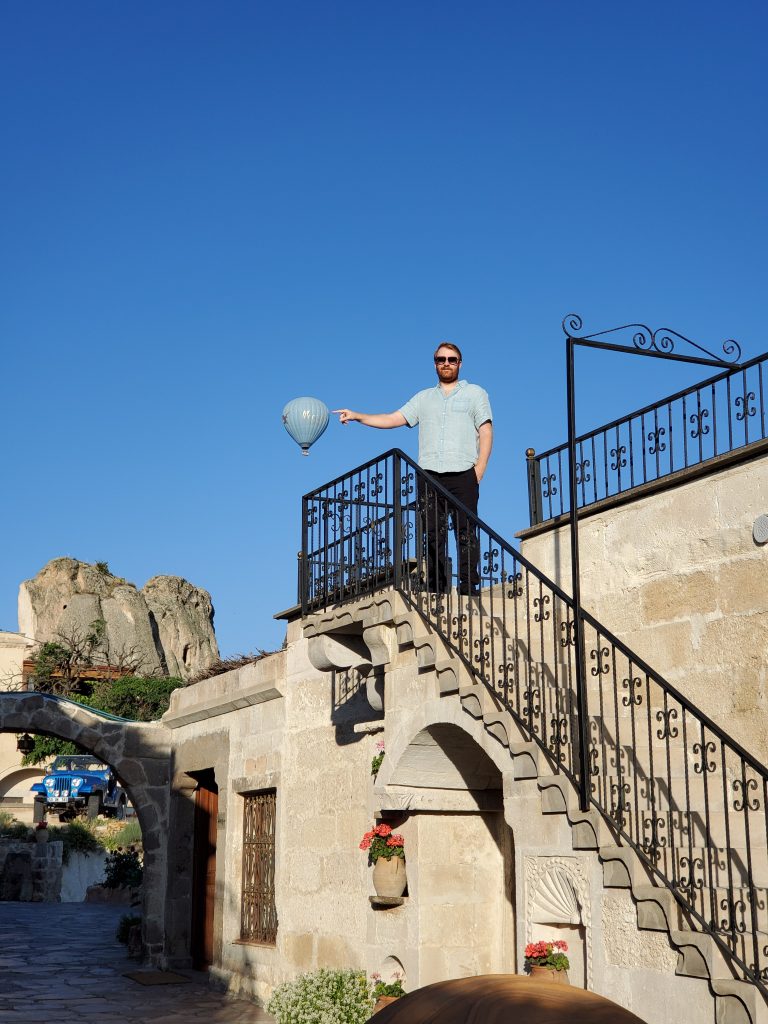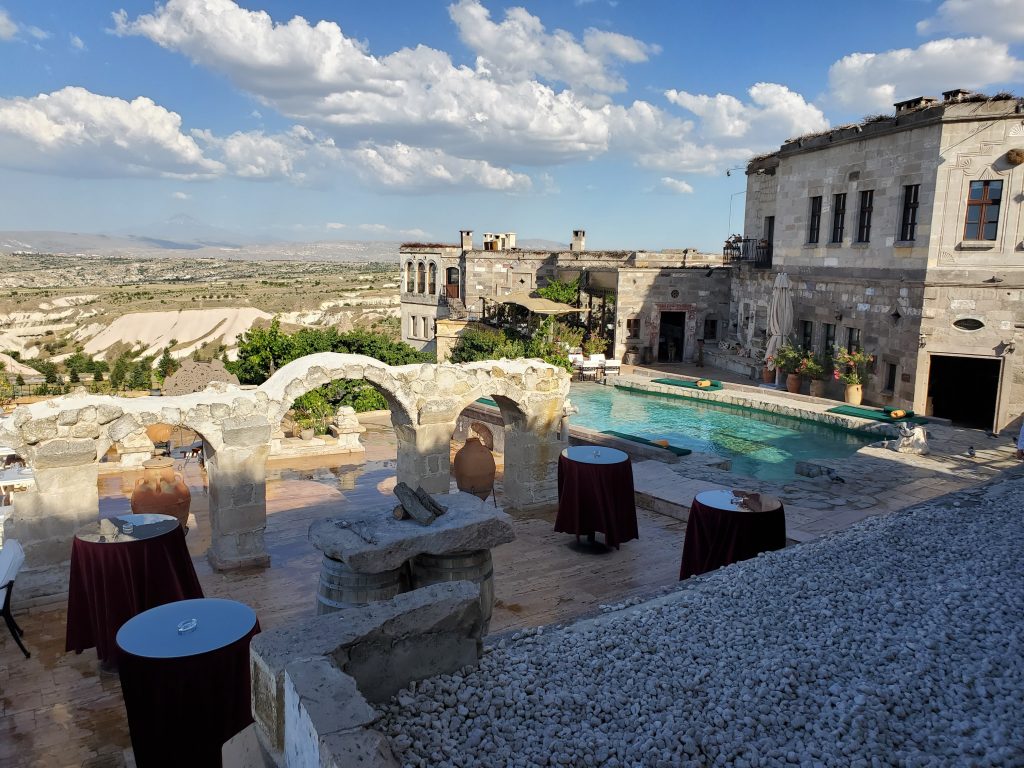 The Food
Food at the Museum Hotel is superb! As a matter of fact, every meal we had in Turkey was amazing! We would wake up every morning looking forward to the Turkish coffee and The Turkish breakfast spread that never disappointed!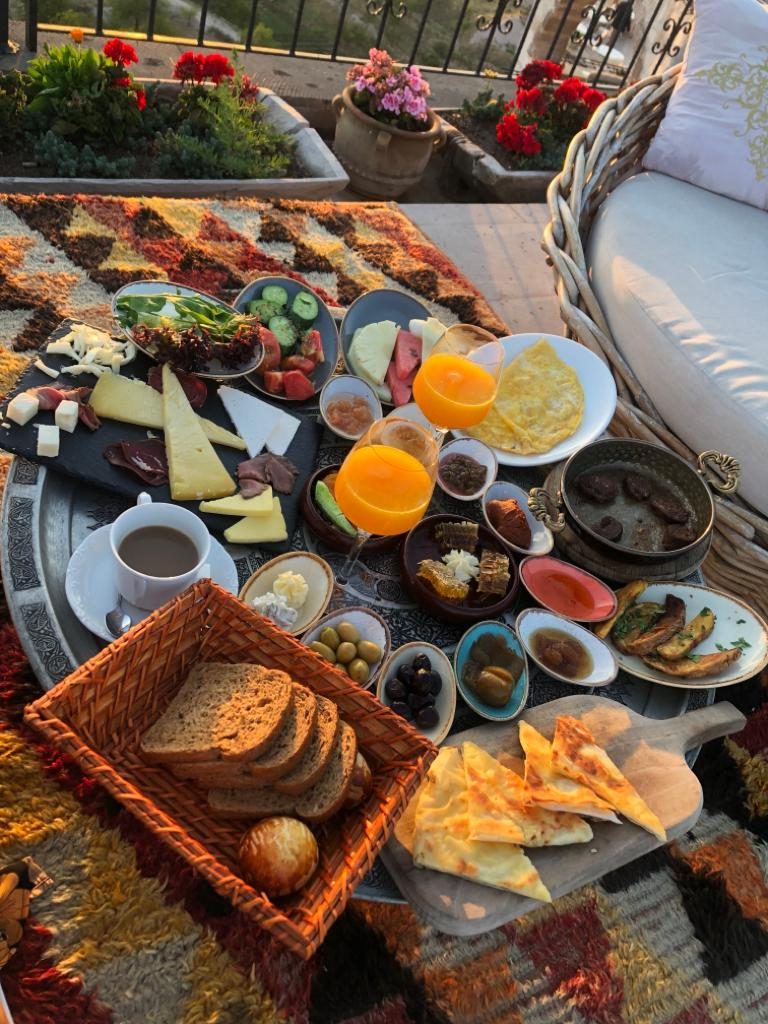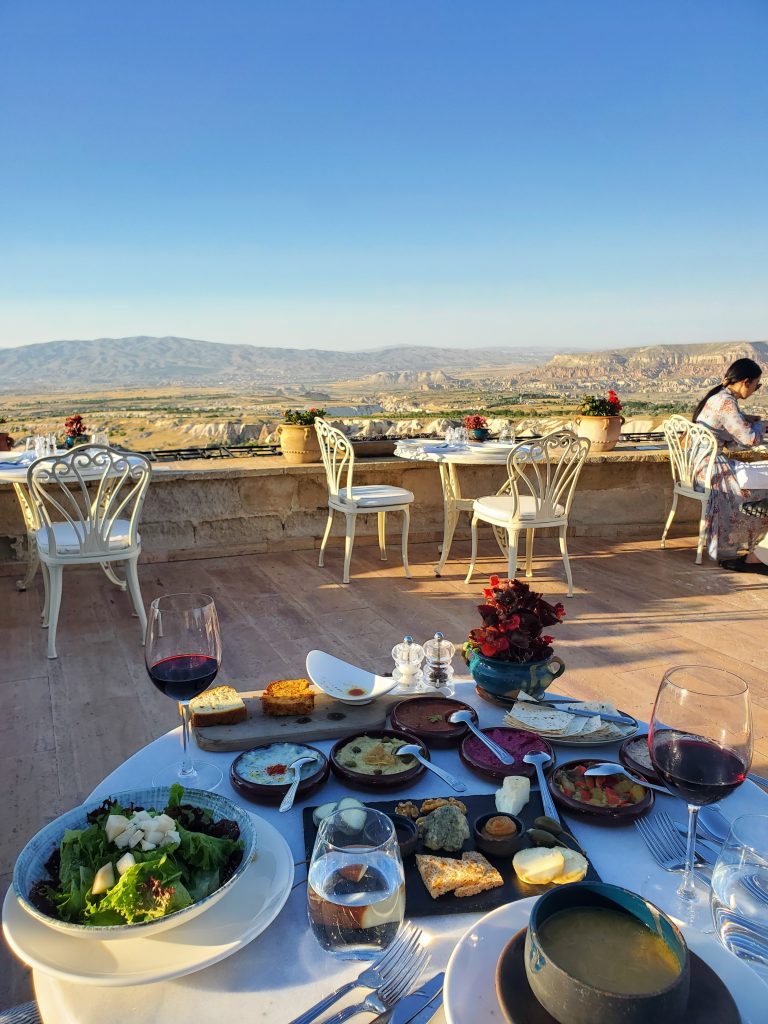 The Room
We were put in the Taskosk Suite which was 5 star. This room over looked the Cappadocia Region with its own balcony, open bedroom and living room area. The room is equipped with a spa treatment area if your interested in getting a Massage or Facial. The bathroom is large with a walk in shower and jacuzzi tub. The hotel definitely lived up to its name with all of the historic decor, there was a unique vibe we felt and we loved every bit of it!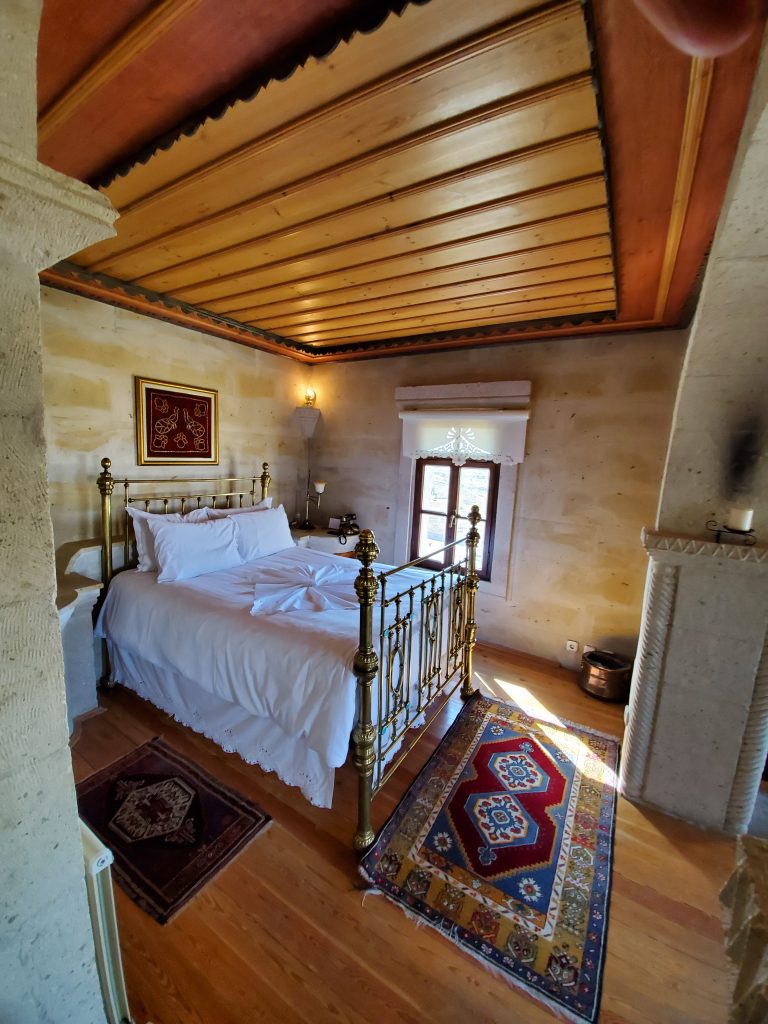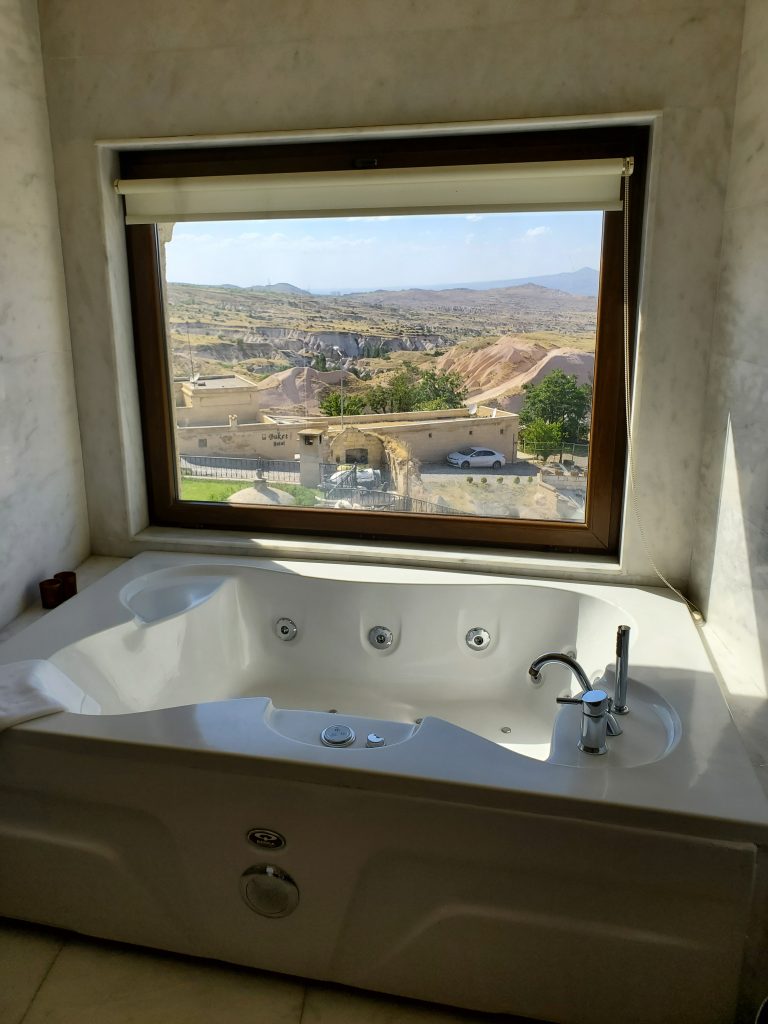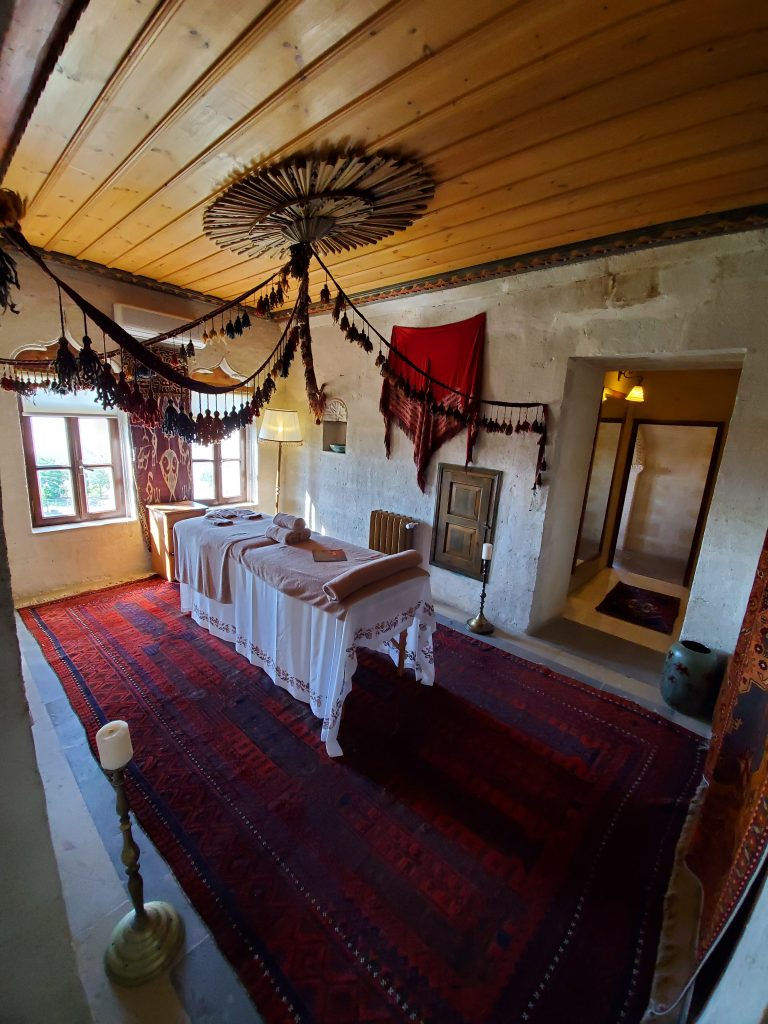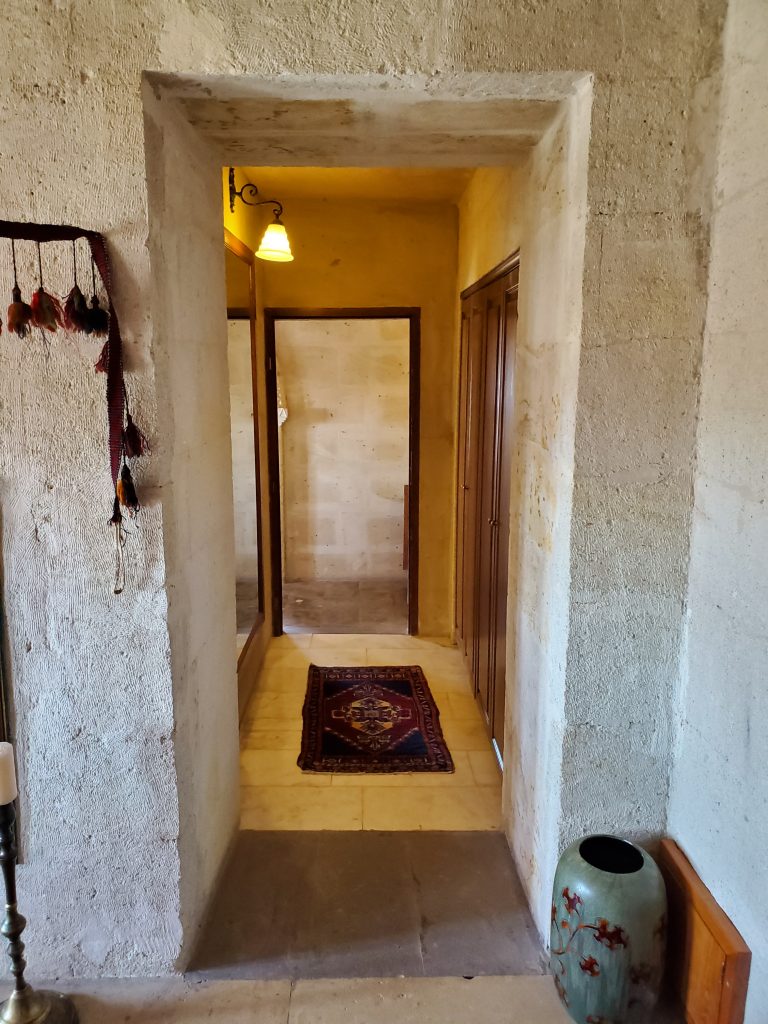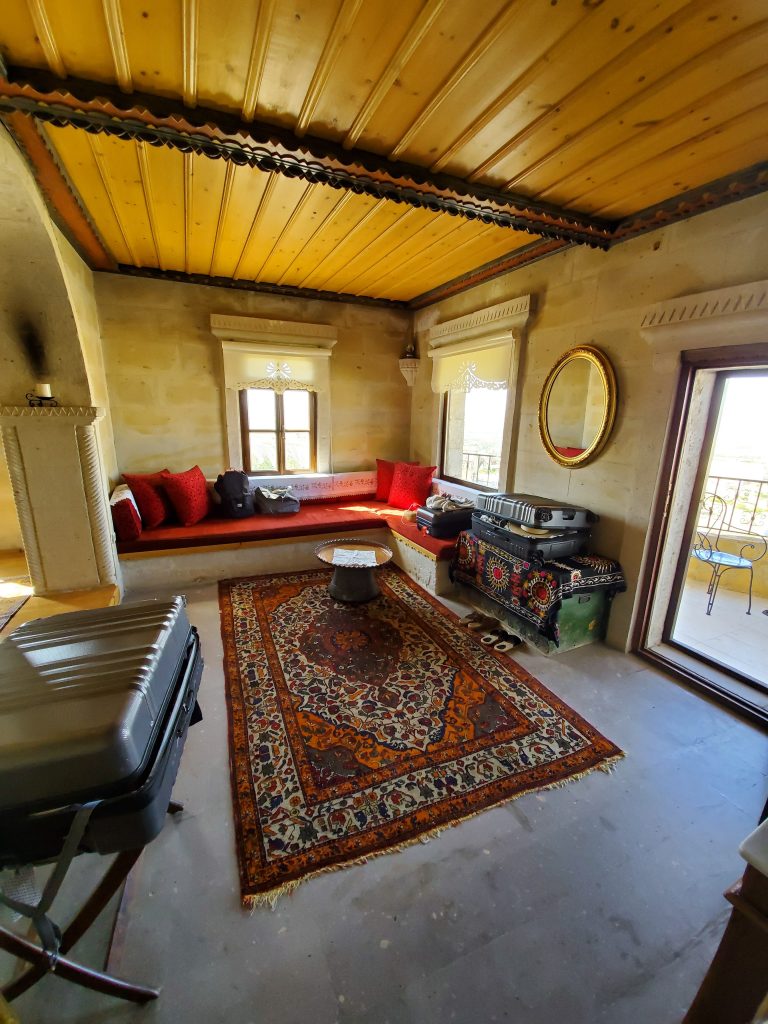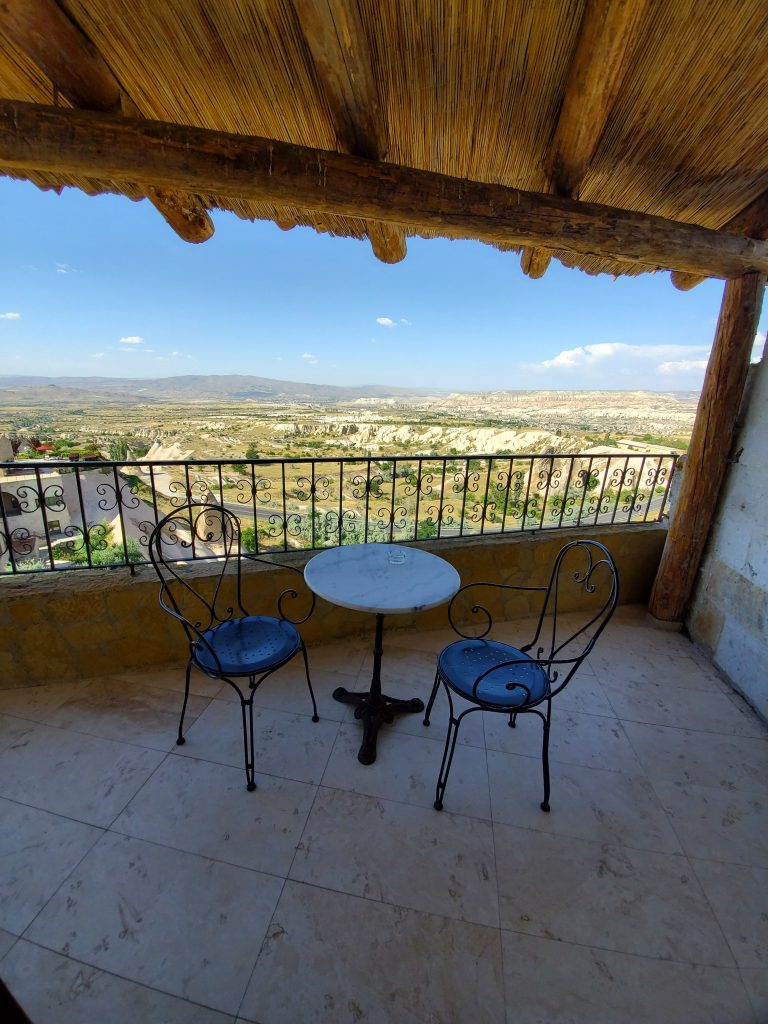 Activities – Jeep Excursion
One of the activities we enjoyed was taking the house car around town. You can rent this fun blue Jeep with a driver for a reasonable cost. We had a great time exploring the beautiful town of Cappadocia.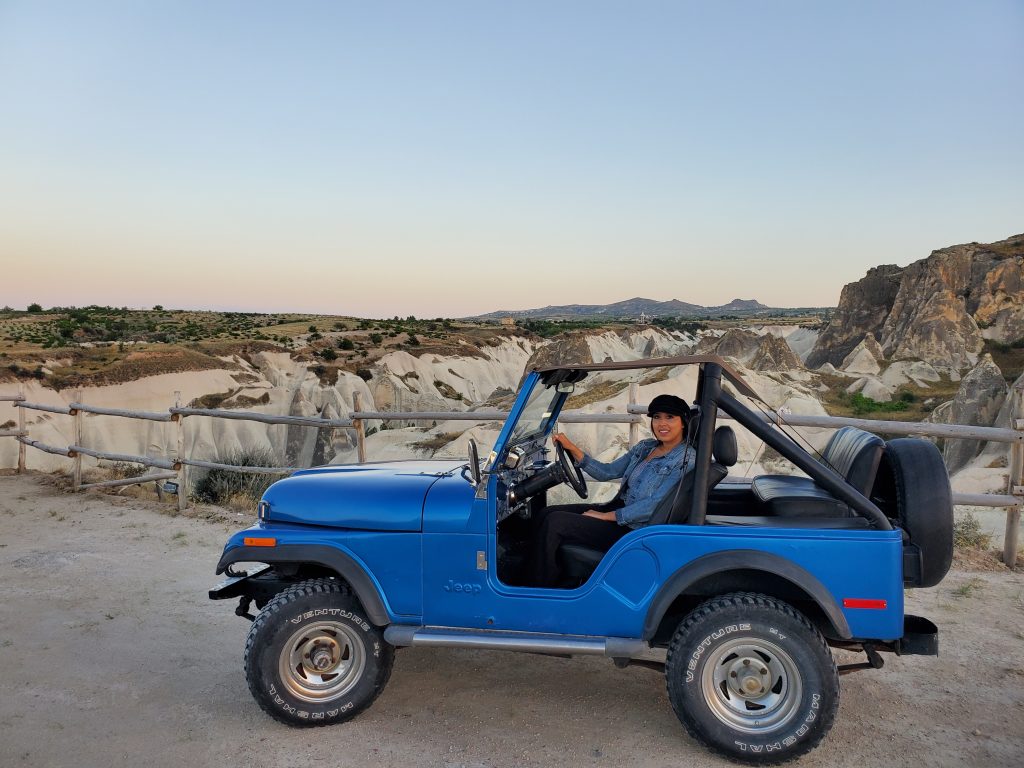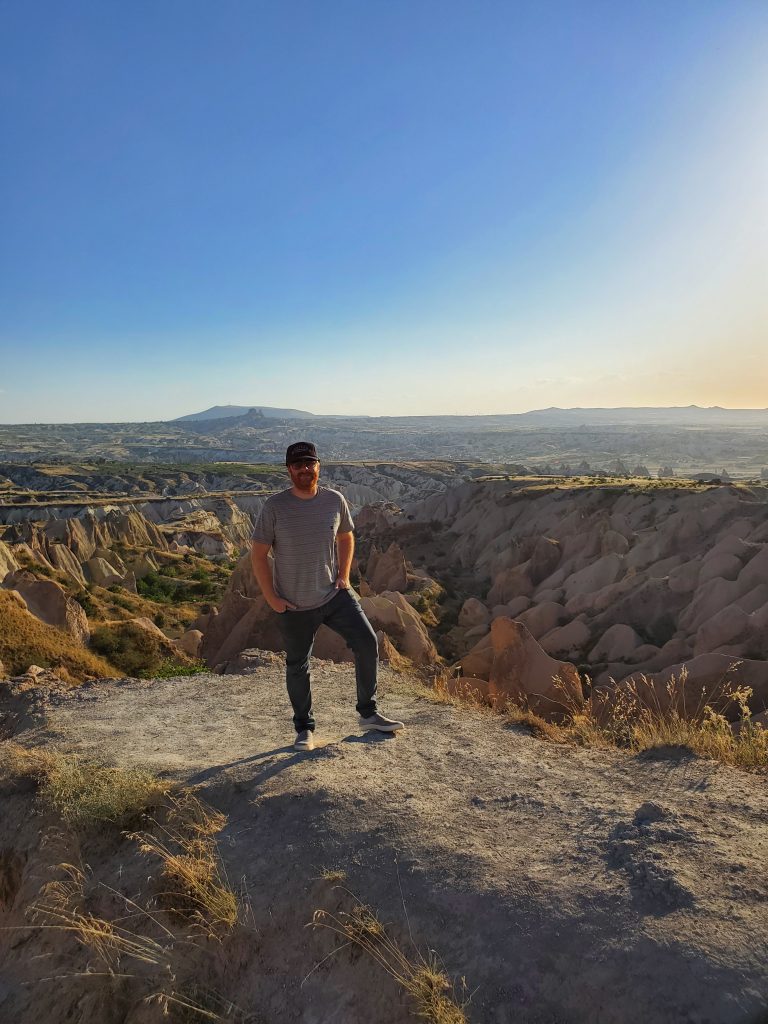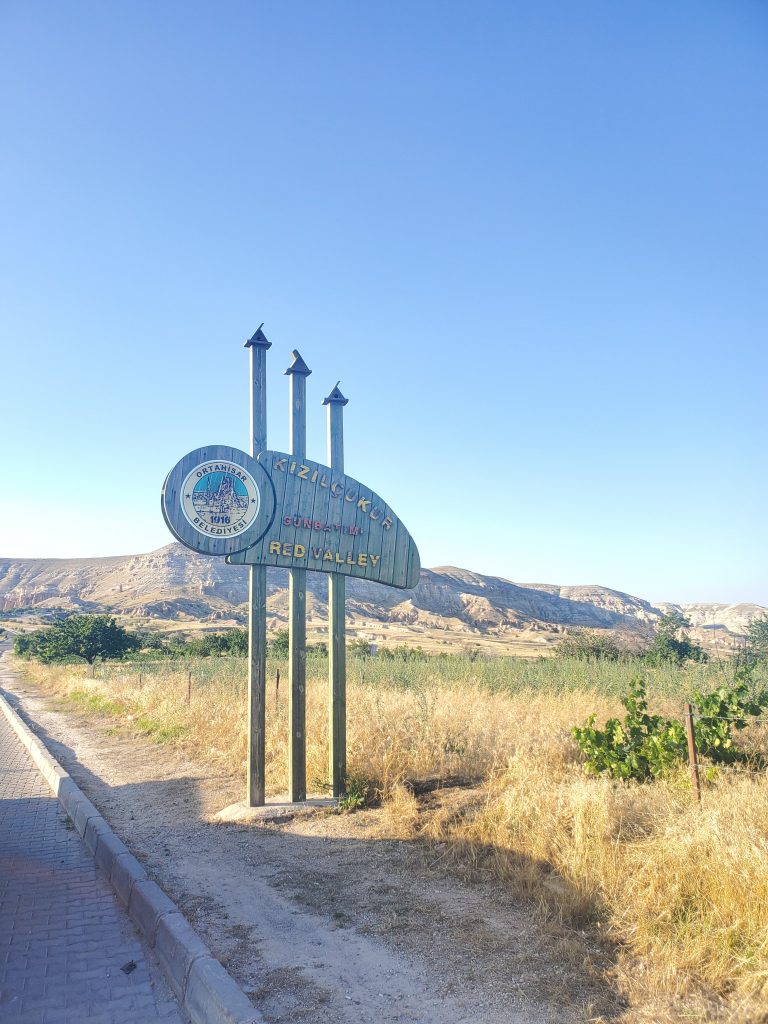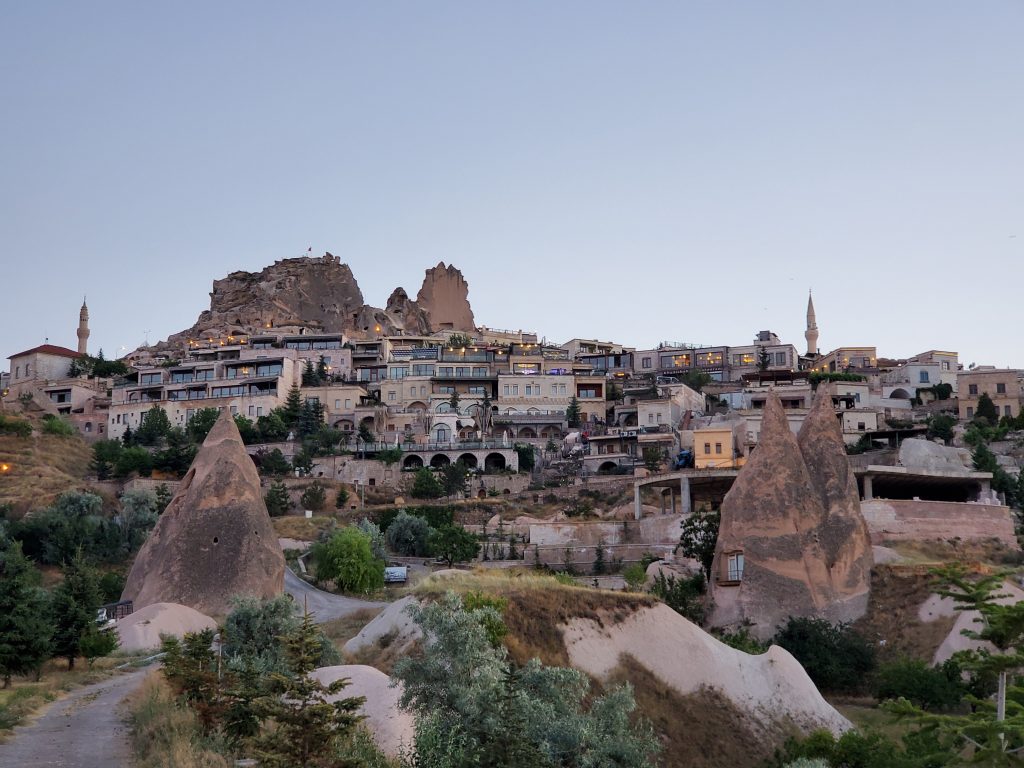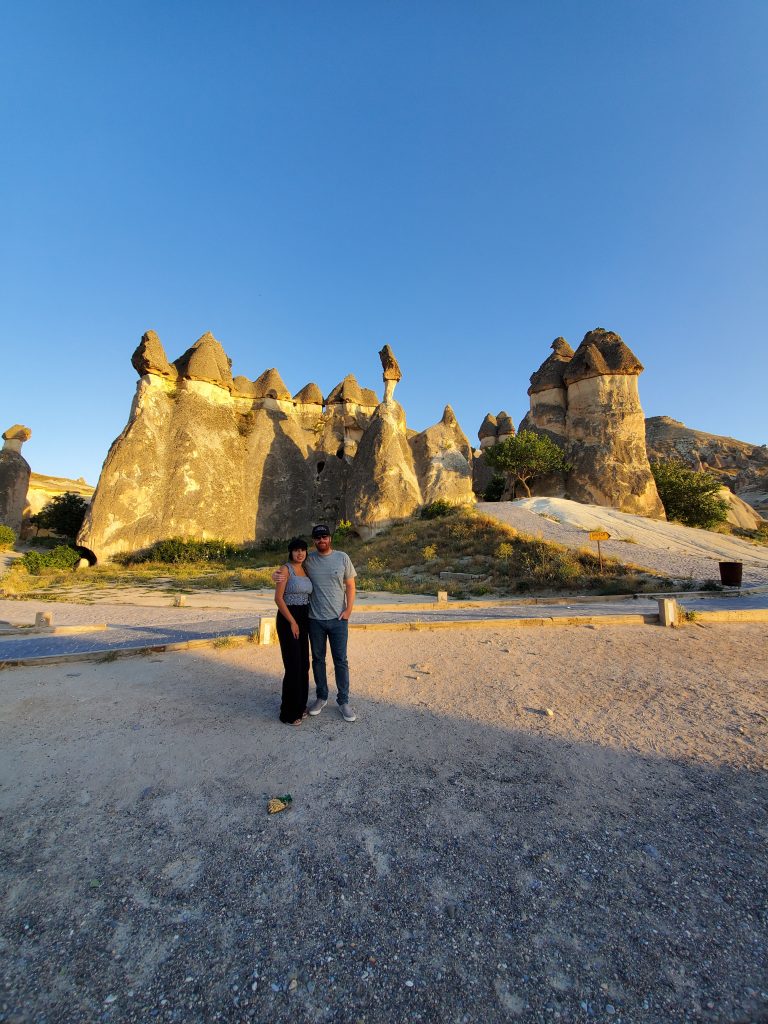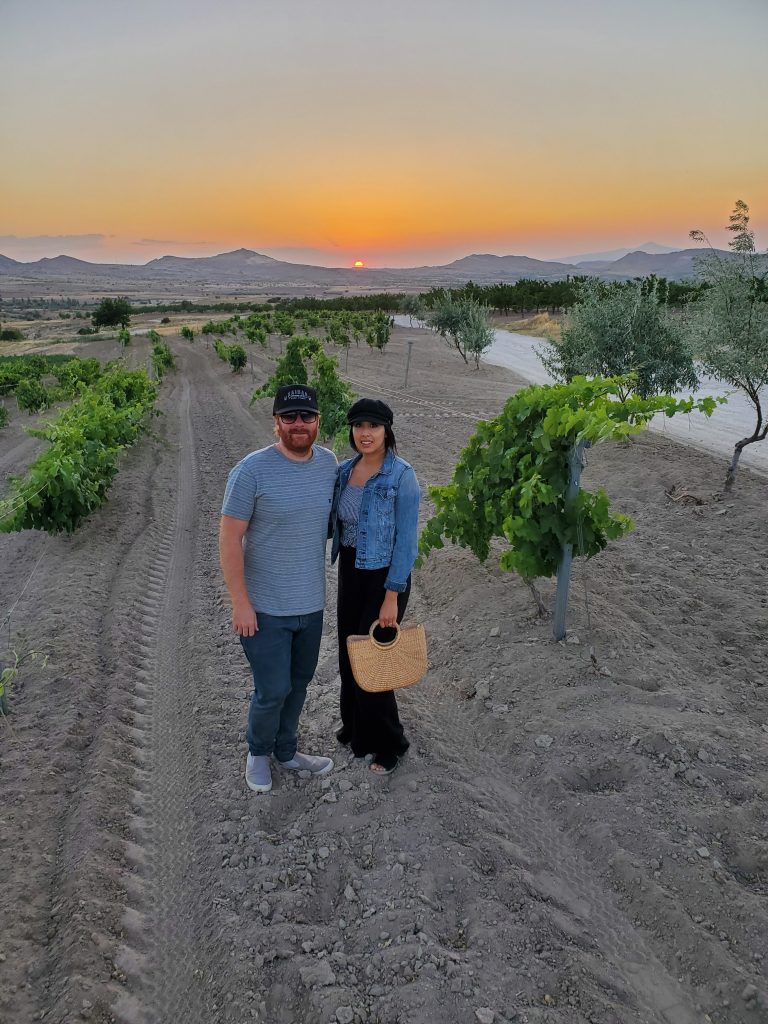 How to Get the Best Deal?
Sadly, this is not a points hotel. In fact, I do not think there are any points hotels in the Cappadocia Area. So this Hotel has to be booked using $$. In this situation, I want to maximize my return on investment since I will be using $$ to book. Time is valuable to me, so I only spend a reasonable amount of time researching and booking. Most of the time google is my main search engine for the hotel I am looking to visit. Google will then list prices for most popular online travel agencies (Expedia, Travelocity, Hotels.com, Etc). I then Find the best deal; for example, lets use Expedia along with a shopping portal. After finding my Expedia rate I would then head to www.cashbackmonitor.com, search Expedia and view what the best earning rate is through one of the shopping portals. If you do not know what a shopping portal is click here. After going through the most rewarding shopping portal I will then use a Credit Card where I will earn the most reward points. Lets take the Citi Prestige for example, this card will reward you 5x Points Per $1.00 back, for online travel agencies PLUS the points you earned using the most rewarding shopping portal. That is an incredible return! Another option, you can use the Citi Prestige Credit Card and Earn the 4th Night Free if you book using Citi's www.Thankyou.com travel portal PLUS Earn 5x Citi Points Per $1.00 for that booking. Additionally, I prefer to book a refundable rate because the rates do fluctuate and if you ever happen to find a better rate you can cancel and rebook. I do not like to book non-refundable unless its tremendously cheaper. Their is too much risk in booking non-refundable rates; if something were to happen you just lost your entire investment!
Hope you enjoyed this review! Follow me on instagram @eyesonthepoints
EyesOnThePoints