American Express Points Put to Good Use – Airlines (British Avios)
Get Value out of your American Express Points!
Points / miles / rewards play a big role in my travels. I am always looking for ways to accrue points/ miles / rewards; however, simultaneously using them at the maximum value that I can get out of them is key for me. Credit card companies want us to use there credit cards and so in turn they give us an incentive with points/ miles / rewards. Being able to accumulate and get rewarded with either points or miles is a great benefit from these credit card companies. If you pay your credit card bills on time and in full why not take advantage of this great benefit from credit card companies (Paying interest is not worth the rewards). Some Credit card companies even offer many other Benefits, for example, some offer, Return Protection, extended warranty protection, travel protection, rental car insurance protection, and much more. Well talk about this later in another post. Lets talk about American Express Membership Rewards Points.
Are All Points Created Equal?
The answer to this question is no. Lets take for instance Money. All money currencies have different values, for example, $10 US Dollar = 7.68 Pound Sterling. Points are similar. There are many different kinds of points/ miles / rewards, and just like there are many currencies, there are many different points/ miles / rewards programs.
American Express Membership Rewards
This rewards program allows you to accrue American Express Membership Rewards Points and transfer these American Express Membership Rewards to other programs. Its like Money Currencies. Say you wanted to go to the United Kingdom and you are from the United States of America. Well then, you would take your American Money and Change it into the UK's Money the Pound Sterling. The same goes for American Express Membership Rewards. I can take my American Express Membership Rewards Points and Exchange them For Delta SkyMiles, or Aeroplans Miles, or British Avios, or Hilton Honors Points, or Marriott/Starwood Points, or Virgin Atlantic Miles, and MORE! This is where true value comes in because I am able to transfer to other Rewards Programs. Most do not understand this and how it works. Most usually buy gift cards/ merchandise off the american express website because its pretty easy / self explanatory. However, your really losing the true / potential value you can receive with american express membership rewards and there partners. Let me give you an example. See picture below for 71,430 American Express Membership Rewards I can buy a $500.00 Gift Card to target. Some gift cards are less expensive and some are more. This is a just a reference. In This case $500.00 for 71,430 American Express Membership Rewards, in my opinion is a very bad value.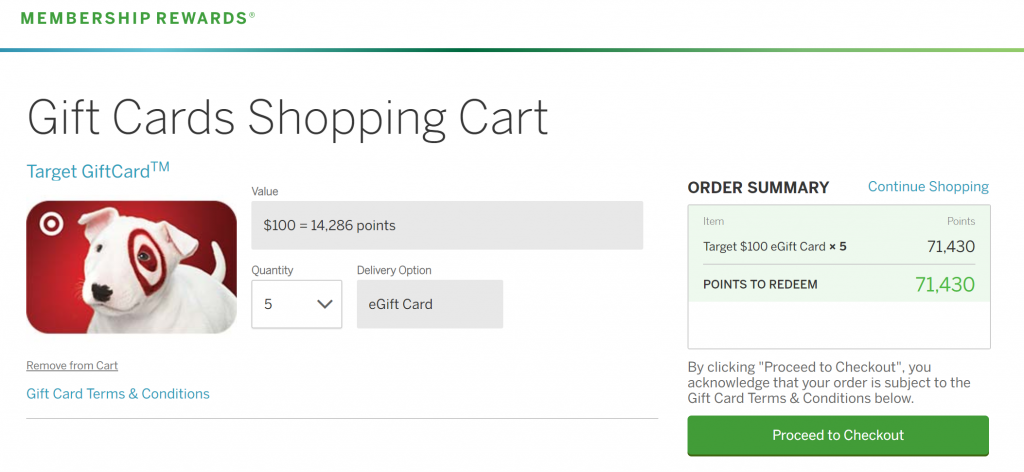 American Express Membership Rewards Program
So instead of using the 71,430 American Express Membership Rewards points on a gift card what else can I do? How bout book a few flights in economy. Lets use British Avios for Example. You can exchange/ transfer American Express Membership Rewards to British Avios 1 to 1. See transfer rates below for ALL of American Express Membership Rewards Program Partners:
Aeromexico 1 to 1.6 (1 Amex Point Will get You 1.6 Aeroplan Mile)
Air Canada (Aeroplan) 1 to 1 (1 Amex Point Will Get You 1 Air Canada Aeroplan Mile)
Air France KLM (Flying Blue) 1 to 1
Alitalia (Millemiglia) 1 to 1
All Nippon Airways 1 to 1
Cathay Pacific (Asia Miles) 1 to 1
British Airways 1 to 1
Delta Air Lines (SkyMiles) 1 to 1
Emirates 1 to 1
Etihad Airways 1 to 1
Hawaiian Airlines 1:1
Iberia Plus 1 to 1
JetBlue Airways 250 to 200 (250 Amex Points will Get You 200 Jet Blue Points)
Singapore Airlines 1 to 1
Virgin Atlantic Airways 1 to 1
Hilton 1 to 2 (1 Amex Point will get you 2 Hilton Points)
Its key to remember that Points/ Miles are similar to Money Currencies. Some Points are worth More then the others, and some are worth less then the others, as you can see above in the transfer rate. For example, 1 American express membership reward point will get you 2 Hilton Points. You might think WOW I get 2 Hilton Points for every American Express Membership Reward Point!! Well, do not get your hopes up. I Like Hilton a lot, especially Some of My Favorite Properties are Conrad Maldives, and the Conrad Koh Samui Thailand. Again, I do like there rewards Program; however, its usually never a good value to transfer American Express Membership Rewards Points to Hilton Honors Points. There are some instances that can make sense, but for the most part I would steer clear of exchanging American Express Points to Hilton Honors Points, but again its up to you. I will talk about a decent transfer to Hilton in another Post. For Now, I want to show you how you can Put 71,430 American Express Points to Good Use because 71,430 American Express Points for $500.00 at Target is not a good deal and if you like deals like I do then your going to love this.
7 ONE WAY ECONOMY FLIGHTS TO CHICAGO FROM LOS ANGELES TRANSFERRING AMERICAN EXPRESS MEMBERSHIP REWARDS TO BRITISH AVIOS 1 to 1
71,430 American express exchanged / transferred to British Avios will allow us to take 7 One Way Tickets from Los Angeles (This Works at other Airports in the So Cal Area as long as the award is available) to Chicago with 1,430 British Avios Left Over costing a cool 10,000 Points Per One Way Ticket. I Choose this route because I go here a lot because my in laws have a place here; however. there are other destinations you can do the same. See Chart Below with how many British Avios it takes to United States Destinations. As a side note, the transfer from American Express Membership Rewards to British Avios is instant which makes this super easy. The cost using cash for flights fluctuate. If you book in advance your most likely going to get a better deal using cash; however, if you wait till the last minute like me then its going to most likely be pretty expensive. So in this case points are very useful; however, sometimes it does not always work out because there are no more Award Tickets Left. Just a note, and in my opinion, its usually better to book Economy Seats paying cash because these days riding in economy is very cheap/ reasonable. There are usually always deals in Economy especially when you book in advance. Usually booking business/ first class is ideal using points because how much value you get out of your points, I will Explain this Later.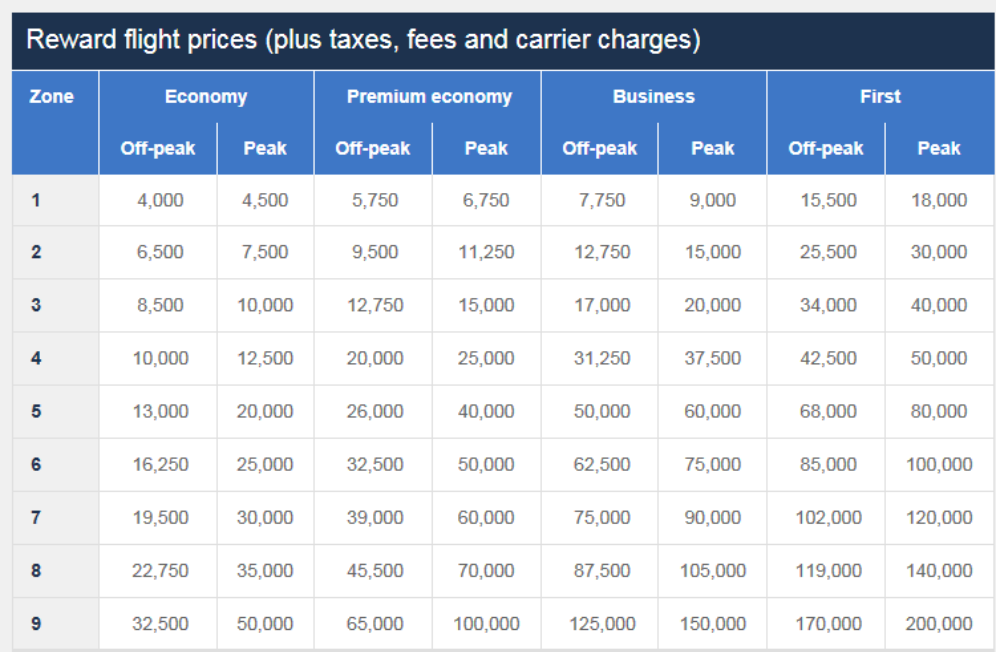 Zone 1 Distance Allowed: 1 – 650 Miles
Zone 2 Distance Allowed: 651 – 1,150 miles
Zone 3 Distance Allowed: 1,151 – 2,000 miles
Zone 4 Distance Allowed: 2,001 – 3,000 miles
Zone 5 Distance Allowed: 3,001 – 4,000 miles
Zone 6 Distance Allowed: 4,001 – 5,500 miles
Zone 7 Distance Allowed: 5,501 – 6,500 miles
Zone 8 Distance Allowed: 6,501 – 7,000 miles
Zone 9 Distance Allowed: 7,000+ miles
Above is the standard British Avios Pricing chart. Side Note is that all flights on partner airlines for example, Alaska Airlines, american airlines are priced at peak day rates, whatever day you fly; however, though this is the case there is still value to be had here.
One Way Ticket From Los Angeles to Chicago Flying American Airlines is in the Zone 3 Chart because Chicago is about 1700 Distance Miles (Not Rewards Miles) away from Los Angeles, CA. The Award Ticket will cost you 10,000 Points/Miles where it usually would cost you 12,500 Points/ Miles from other airlines. See Pictures Below.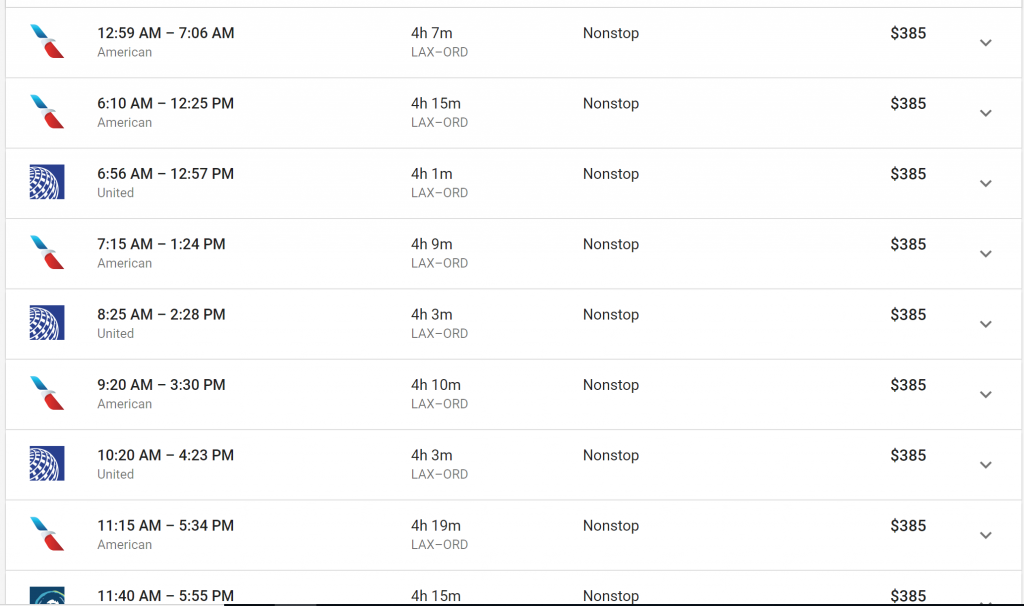 Above is Cash Price for the One Way non Stop Flight. $385.00 One way Per Ticket. This is probably a basic ticket as well; however we will use this price just for an example. 7 One Way Tickets from LAX to Chicago would cost you in Cash = $2695.00. Now Lets take that 70,000 American Express Points and Transfer to British Avios. See Picture Below.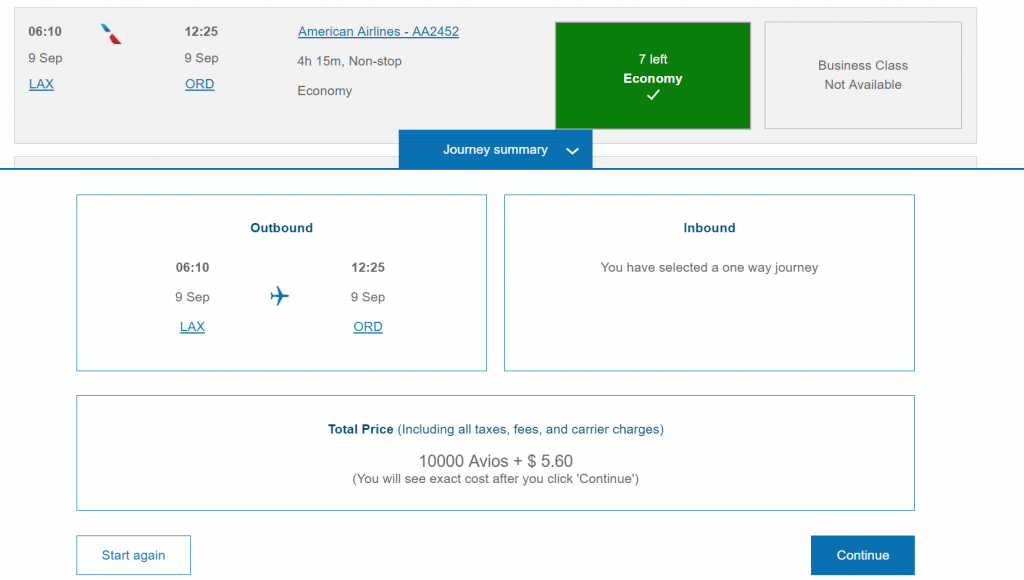 7 One Way Tickets = 70,000 Points/ British Avios and $39.20
If you paid cash for these 7 Flights From LAX to Chicago it would Cost you about $2695.00 or you Could use 70,000 Points to book this flight.
The $500.00 target Gift Card is about 70,000 Points as well.
What would you Choose? I know what i would do. You are getting almost $2200.00 More in value booking 7 Flights in the Zone 3 Area of the British Avios Chart flying British Airways Partners then buying a silly Gift Card using Points.
Safe Flight!