Hidden Gem of Aeroplan – The Stop Over
Hidden Gem of Aeroplan – The Stop Over
I love Aeroplan! What is so awesome about Aeroplan is that it allows you to do a single, double, or One Stop Over and One Open Jaw. We will talk about Single Stopover today.
Aeroplan is a transfer partner of American Express Rewards. You Can transfer from American Express to Aeroplan at the rate of 1 to 1.
For Example, a one way ticket from LAX to JFK will cost you 12,500 Aeroplan Miles. You can transfer 12,500 American express Membership rewards points to Aeroplan to book this ticket, meaning its 1 American Express Membership Reward Point to 1 Aeroplan Mile.
The Single Stop Over
What is so awesome about stop overs is that it allows you to visit your layover destination for longer then 24 hours. A layover is 24 hours or less. So For Example lets say you wanted to go to Singapore. See Picture Below.

Los Angeles to Singapore direct flight in business class 77,500 Aeroplan miles. This is a direct flight with no stopovers. It should be noted this is a fantastic flight by the way if you want a non-stop flight. Now lets look at a flight with a lay over. See picture below.

This flight is the same price 77,500 Aeroplan Miles, However, this has a Layover. First Leg, Business Class From Los Angeles, CA to Seoul, South Korea on Asiana. Second Leg, Business Class from Seoul, South Korea to Singapore on Singapore Airlines.
Your Probably asking yourself why would I want to layover if I could do a Non-Stop for the same amount of points? Well, instead of a layover we can turn this layover into a stopover. Meaning we could stay in Seoul for Multiple Days instead of hours and see the beautiful country of South Korea. You can try booking other layover cities/ countries, it does not specifically have to be South Korea. This is Just an example. I will use Tokyo, Japan instead below in our example so that you can see it works with other destinations. You just have to search trial and error until you find your destinations.
What is nice about the single stop over is that you can book online on Aeroplans Website pretty easily. See Below. The kicker is that you MUST book a round-trip ticket and Must return to your origin destination. Head to Aeroplan's website www.aeroplan.com and if you do not have an account setup make one! Then put your mouse over on book travel and click flights. Once you click flights you should see something like the below.
It should be noted we are going to use business class flights; however, this works on economy flights as well. Economy Flights though these day are becoming more and more reasonable so I usually like to book economy seats using cash. It depends though, you must see for yourself what the Cash Rate is and the Points Rate and then make your decision. Booking Business Class Flights using cash is still very expensive these days, so using points/ miles to book business class seats is definitely the way to go.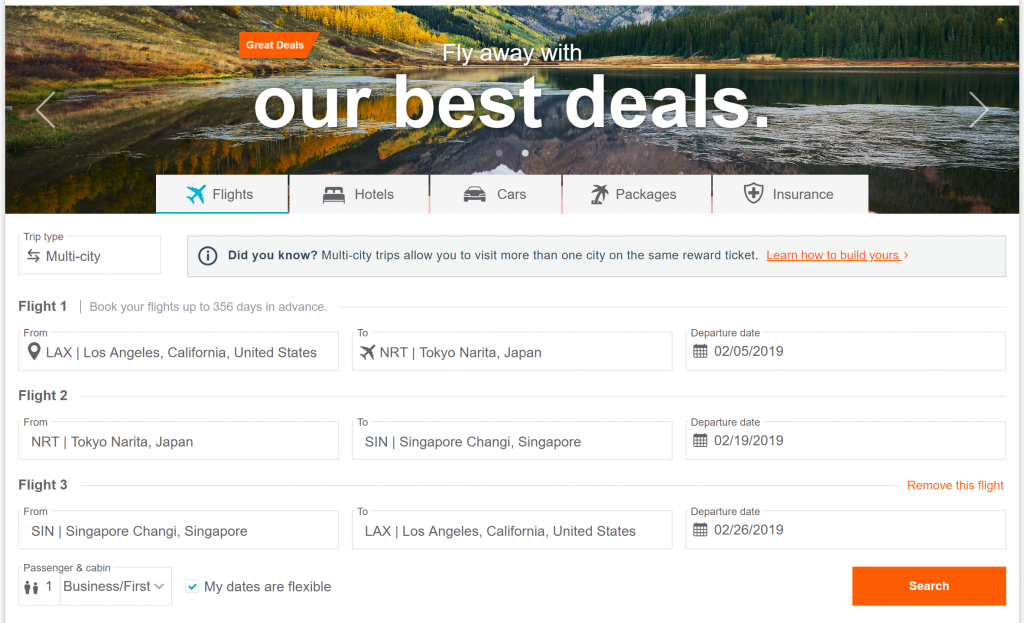 Where it says "Trip Type", change this to "Multi City." Input your Destinations as you see above. You Will then Come to a screen like you see below that allows you to pick and choose flights that you would like. See Below.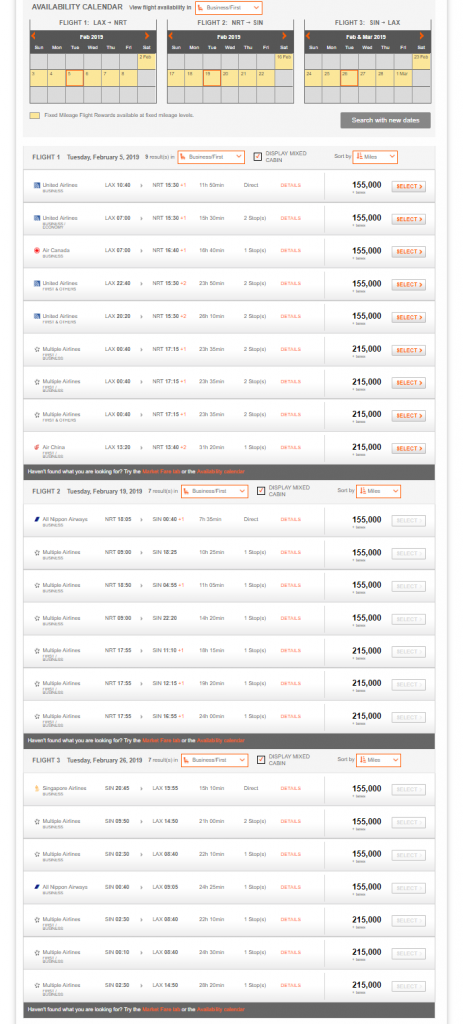 I Chose the Flights as Follows:
1) Lax to Tokyo (Direct)
Los Angeles, CA to Tokyo, Japan (Direct Flight in Business Class on United Airlines)
2) Tokyo to Singapore (Direct)
Instead of laying over in Japan were going to stick Around for 14 Days. That is probably a bit long; however, just wanted you to get the point that you are not laying over for a few overs. Now you can actually go enjoy the Country of Japan.
3) Singapore to Lax (Direct)
Then you will pick back up on your Flight to Singapore on ANA Airlines 14 Days Later and stay in Singapore for another 7 days and have a direct flight home in business class on Singapore Airlines.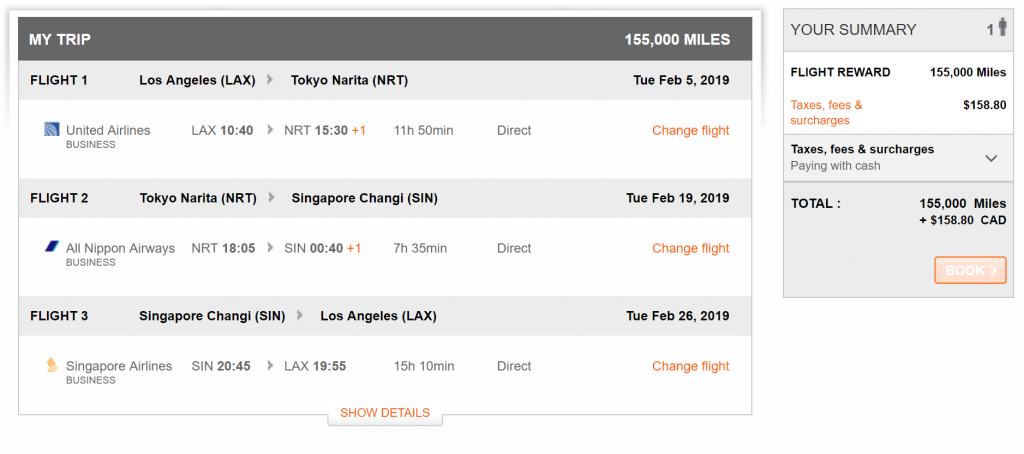 So 155,000 Miles + $158.80 Canadian Dollars will get you a business class FLIGHTS, hence, Multiple Business Class Flights. This would be the exact cost if you went from LAX to Singapore and Singapore back to LAX. So if it is going to be the same cost why not add a stopover to check out another destination!
If you were to Book these Flights Separate Here is how Much they Would cost each.



So if you were to book these without the SECRET HIDDEN GEM of Aeroplan's Stopover this would Cost you a total of 192,500 Aeroplan Miles!
Stay Tuned! Double Stop Over with Aeroplan will be discussed soon!
Remember American Express Membership Rewards is a Transfer Partner to Aeroplan.
FEEL FREE TO COMMENT BELOW. OR EMAIL US AT help@eyesonthepoints.com