Up to $50.00 Off at Amazon Using 1 American Express Membership Reward Point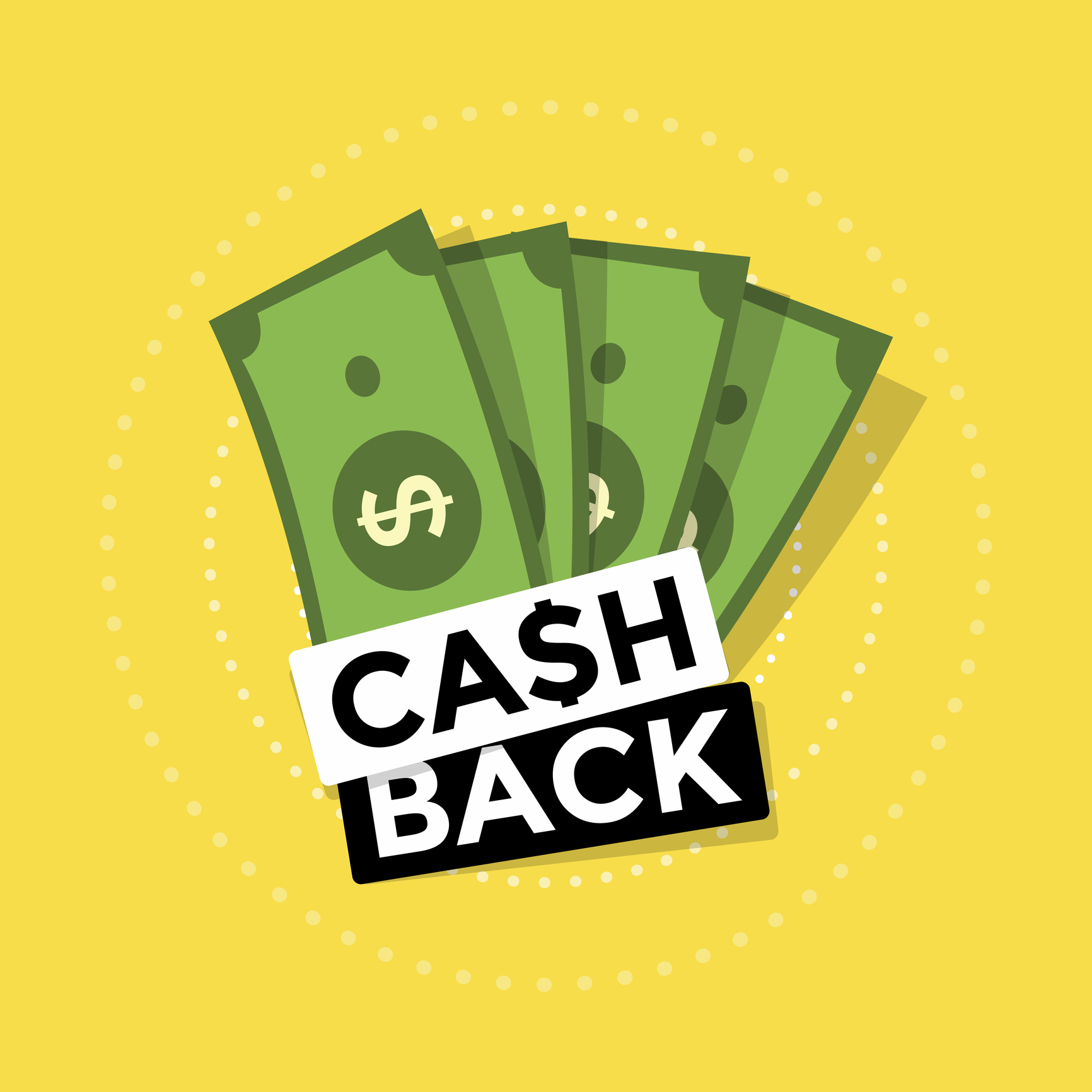 Up to $50.00 Off at Amazon Using 1 American Express Membership Reward Point
THIS IS A TARGETED OFFER. YOU MAY OR MAY NOT HAVE GOTTEN THIS OFFER.
If its free its for me! Im sure you would say the same! Right Now, American Express and Amazon have teamed up to give you FREE MONEY.
How?
Requirements
1) Must Have a Amazon Account. If you Do Not Have one then head HERE and create one www.Amazon.com
2) YOU MUST HAVE AN AMERICAN EXPRESS CREDIT CARD THAT EARNS AMERICAN EXPRESS MEMBERSHIP REWARDS TO MAKE THIS WORK.
3) Enroll In "Shop With Points" HERE – NOTE WHEN YOU ENROLL MAKE SURE TO CLICK "NO" TO DEFAULT PAYMENT WITH POINTS. You DO NOT want to accidentally pay your AMAZON PURCHASES with all of your membership rewards points.
4) After Enrolling with "Shop With Points" Head HERE to See if your Targeted and Click the Button "CLICK TO ACTIVATE" (See Picture Below)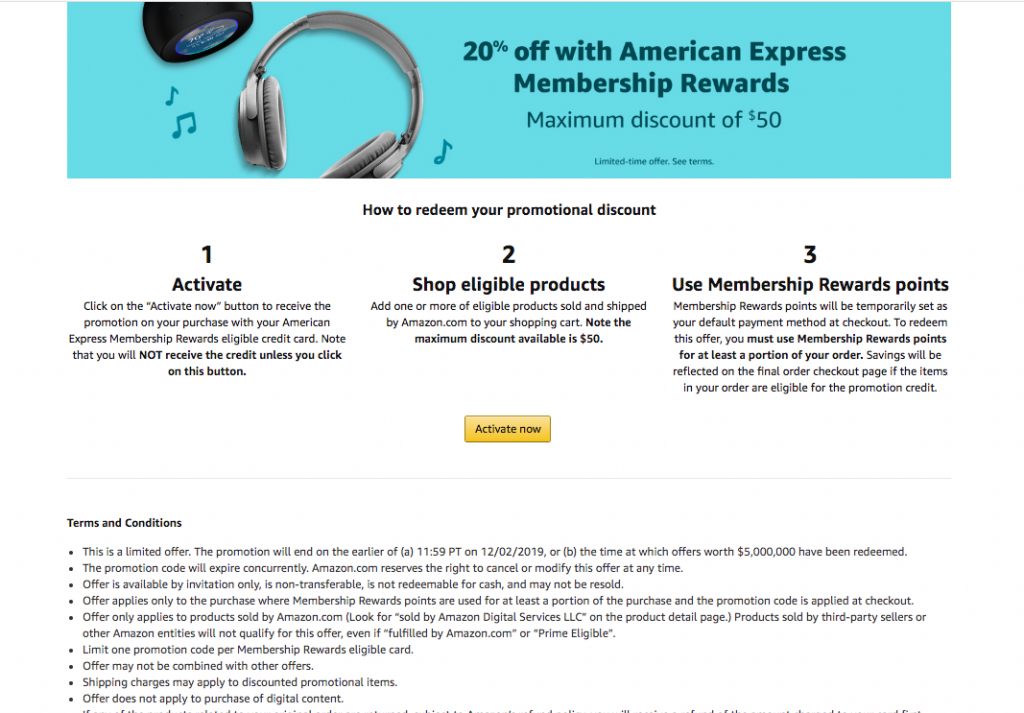 This promotion will give you 20% off up to $250.00 which will give you a grand total of $50.00 Off. If you have $250.00 or More Purchases coming up at Amazon this could be real handy. And if your significant other got this targeted offer as well, you could double up giving you a grand total of $100.00 off.
If you do not have anything to buy on Amazon at the moment, then think about buying gift cards. Amazon sells all sorts of third party gift cards (Macys, Target, Best Buy, Nordstrom, Lowes, Etc).
Here's an example of How to Apply The 1 Point Needed to Give Me a Grand Total of $50.00 Off
Lets say if I were to buy $250.00 worth of stuff on Amazon. I put all of that into my shopping cart and head to the check out screen. I then click My Method of payment as a American Express Credit that earns membership rewards points. I then Click "PAY WITH POINTS." However, I DO NOT WANT TO USE ALL of my American Express Membership Rewards with this purchase. Why? Simply put because its a horrible value. I only want to USE 1 Membership reward Point, and that is all that is needed to take advantage of this promotion.
See Picture Below.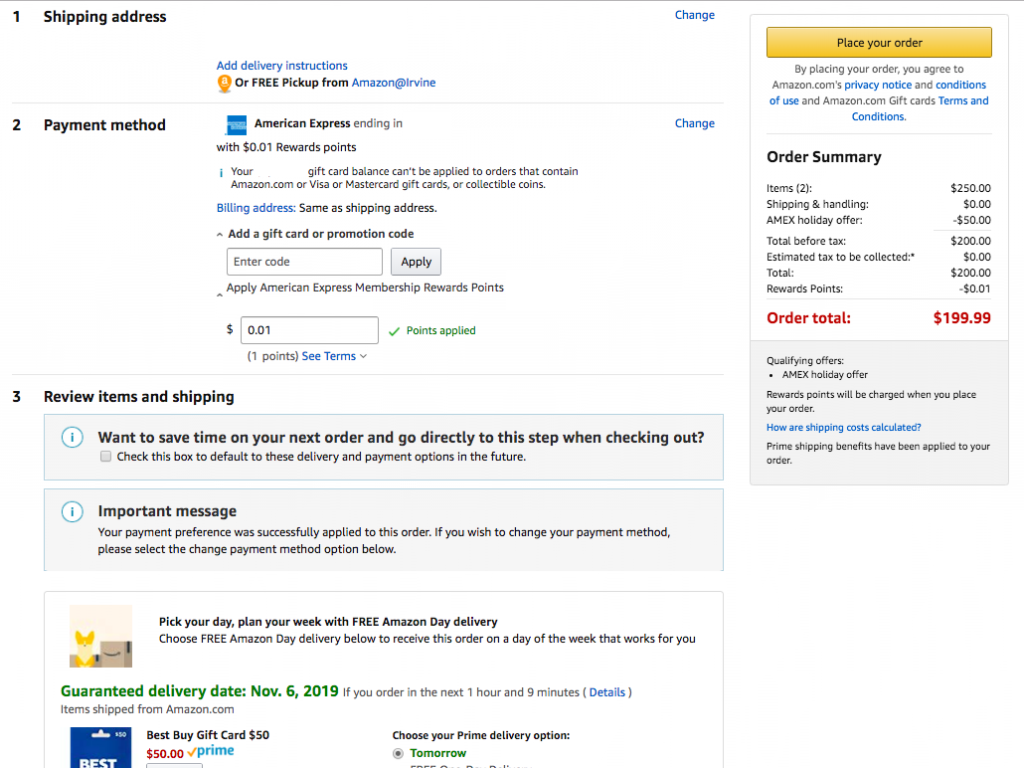 So lets just say I bought The Following:
Best Buy @ $50.00
Lowes @ $200.00
Total $250.00
However, when I Pay With Points and Apply 1 American Express Membership Reward I would recieve $50.00 Back. Double Up with your significant other. Happy Free Money$!