Park Hyatt Maldives Hadahaa Review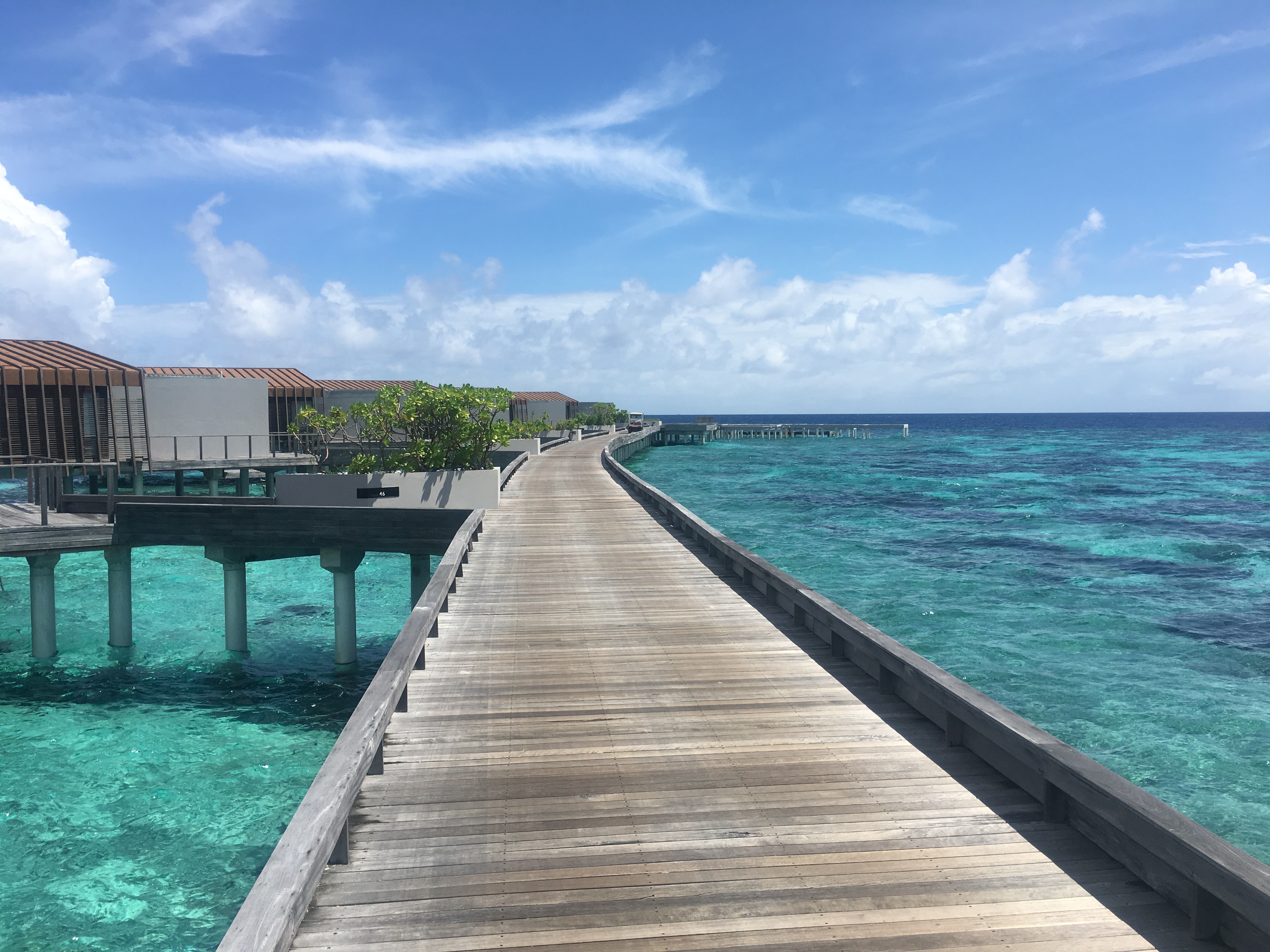 Park Hyatt Maldives Hadahaa Review
Book this Using Hyatt Points – 25,000 Hyatt Points Per Night – Chase Ultimate Rewards Also Transfers to Hyatt. Transfer 25,000 Chase Ultimate Rewards to Hyatt Using www.ultimatrewards.com Per Night.
If you could compare the Maldives to Paradise I would imagine that Maldives is probably the closest your going to get to Paradise at this point in time. Most people tend to think that Maldives is very expensive. And yes, there are some very expensive places/ hotels/ resorts, maybe a handful of some that are very reasonable, and then there are Points Hotel, which I tend to book and enjoy most of the time. Points Hotels are not for everyone. Points hotels are my preferred way to book because of the status/ loyalty/ and points/ rewards I receive each and every time I stay. There are occasions that I would choose to pay to stay at a Non-Points Hotel and use cash. However, here we talk about points, so we are going to talk about The Park Hyatt Maldives Hadahaa which is a points hotel and has an awesome points/ rewards program. Hyatt in my opinion is the most generous out of all hotel programs and is usually very loyal and superb to other hotel brands/ Points Hotels. The Park Hyatt Maldives Hadahaa will Run you 25,000 Hyatt Points Per Night in the Maldives. If you were to Pay Cash During the High Season it would be over $1100+ where as the Low Season (Monsoon Season) would be $500+. For 25,000 Hyatt Points in my opinion is a great deal. You will receive a Beach Villa and not a overwater villa; however, the Beach Villas in my opinion were just as nice, if not nicer then the overwater villas. In my opinion, I would stay in a beach villa for the majority, and pay the upgrade $fee and stay a couple nights on the overwater villas so you could experience the over water villas. See the pictures Below of the Both Villas.
The Beach Villa #06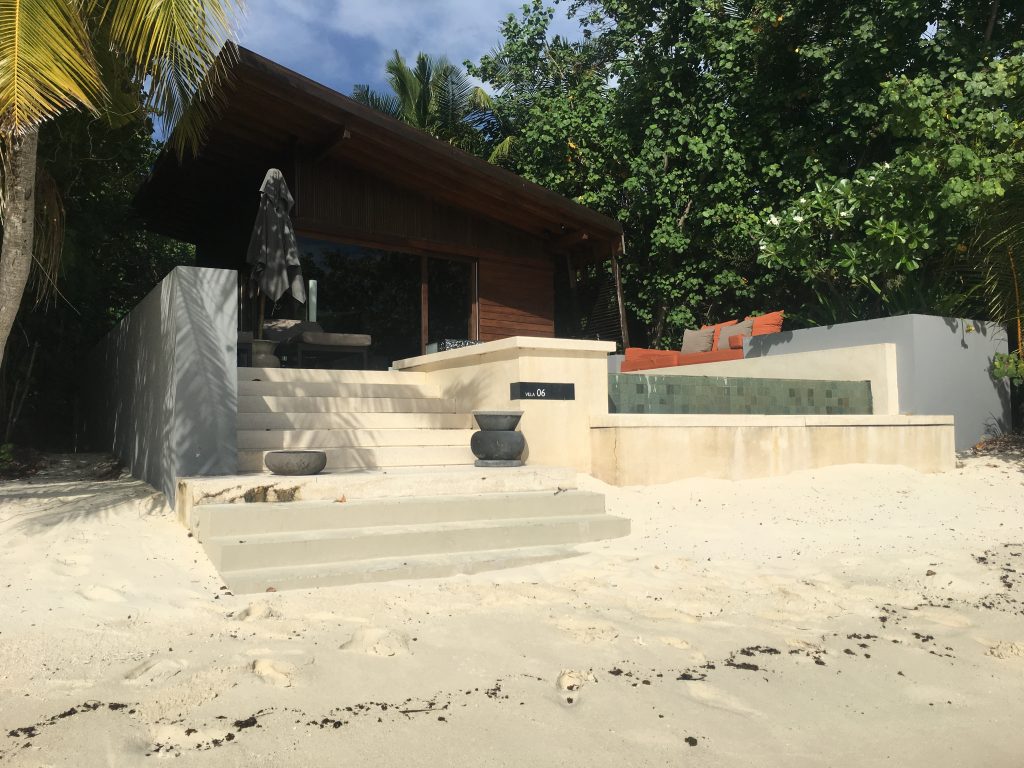 Amazing Views From Villa #6 – All Beach Villas are Beautiful and you can't go wrong with any of the villas on the island; however, most are more private and behind the trees (which some people like privacy). What is nice about Villa #6 it literally sits on the ocean front and comes with a spectacular view; however, you wont be getting frisky here; well, unless you want the occasional onlooker walking along the beach from time to time. I could circle the island on my morning walk along the beach in 30 Min or so, just to give you an idea of how small and excusive this place is.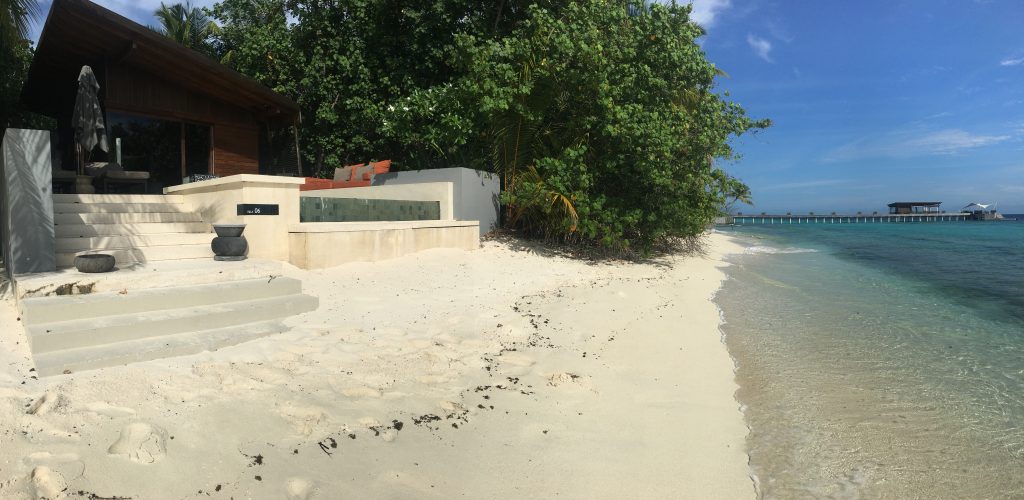 View From Inside the Beach Villa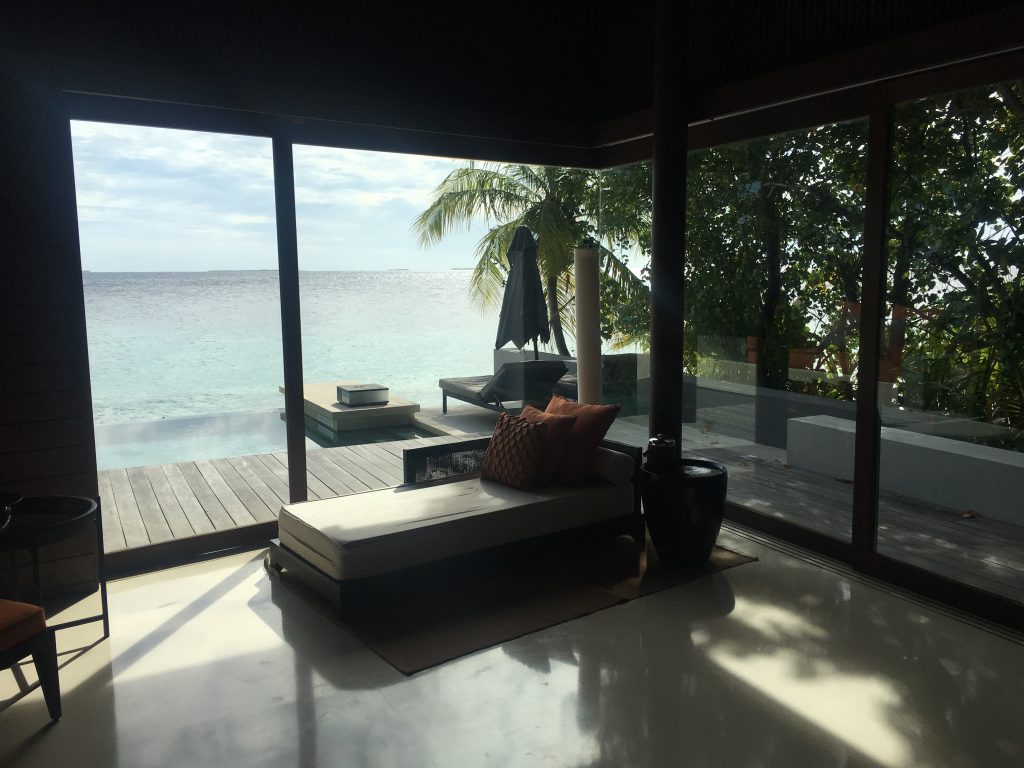 Steps from the Crystal Clear Ocean Water from our Beach Villa
Over Water Villa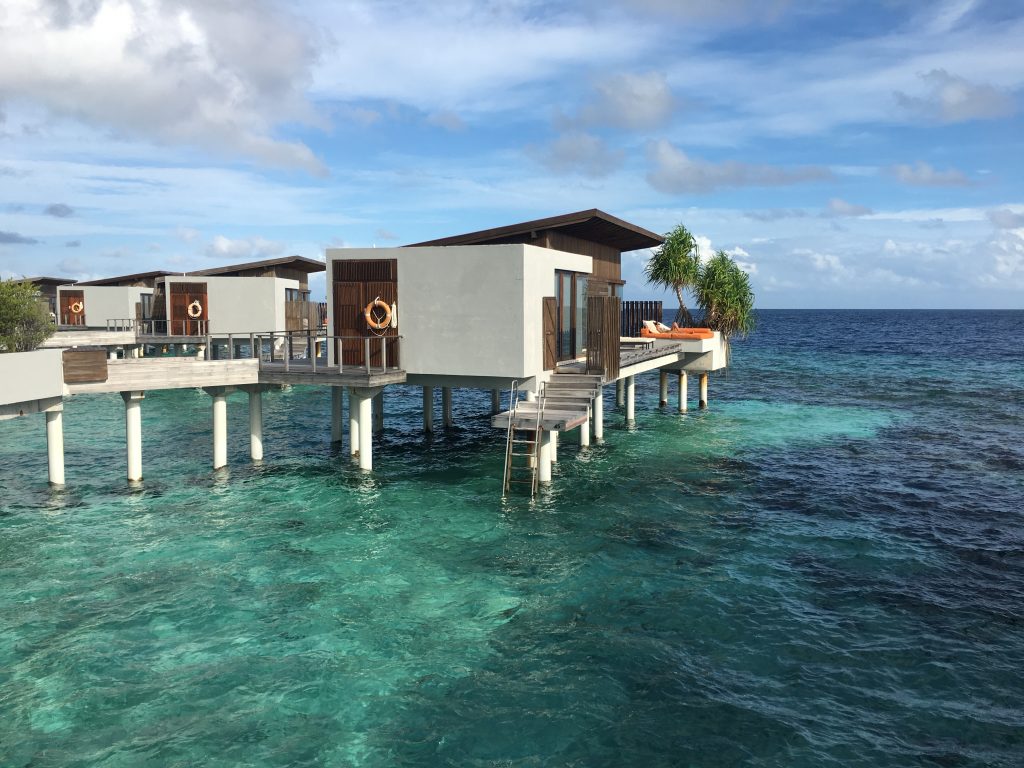 Over Water Villa Balcony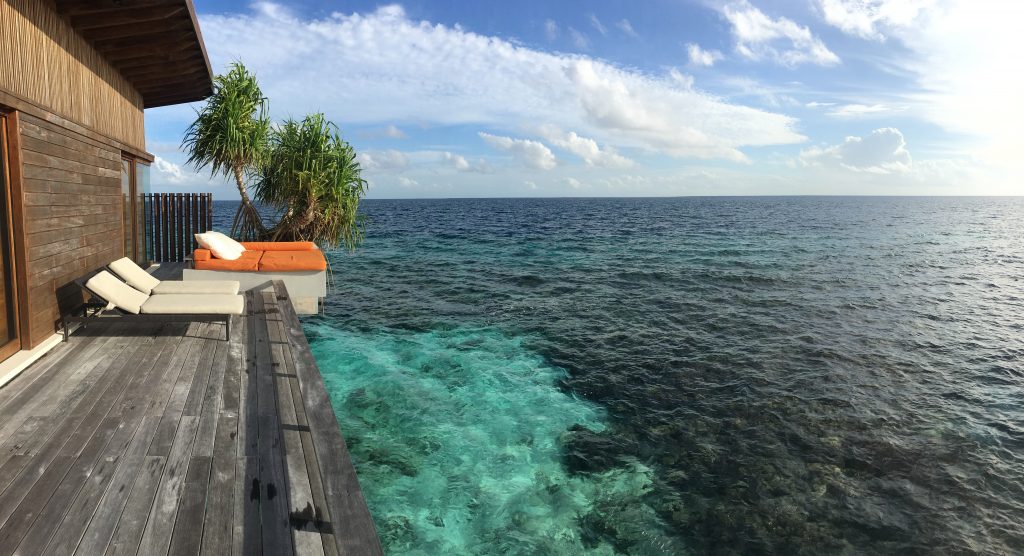 You will Notice the House Reef at Park Hyatt Maldives Hadahaa Near the Over Water Villas has a darker distinct color. This may not be the crystal clear blue water; However, the house reefs which brings a lot of fish is one of the most beautiful house reefs to snorkel in the Maldives and is just right outside of your Overwater Villa! Insane! Believe me there is plenty of Crystal Clear Turquoise\ Green \Blue Water ever insane color your thinking, its here.
Sunset – Park Hyatt Maldives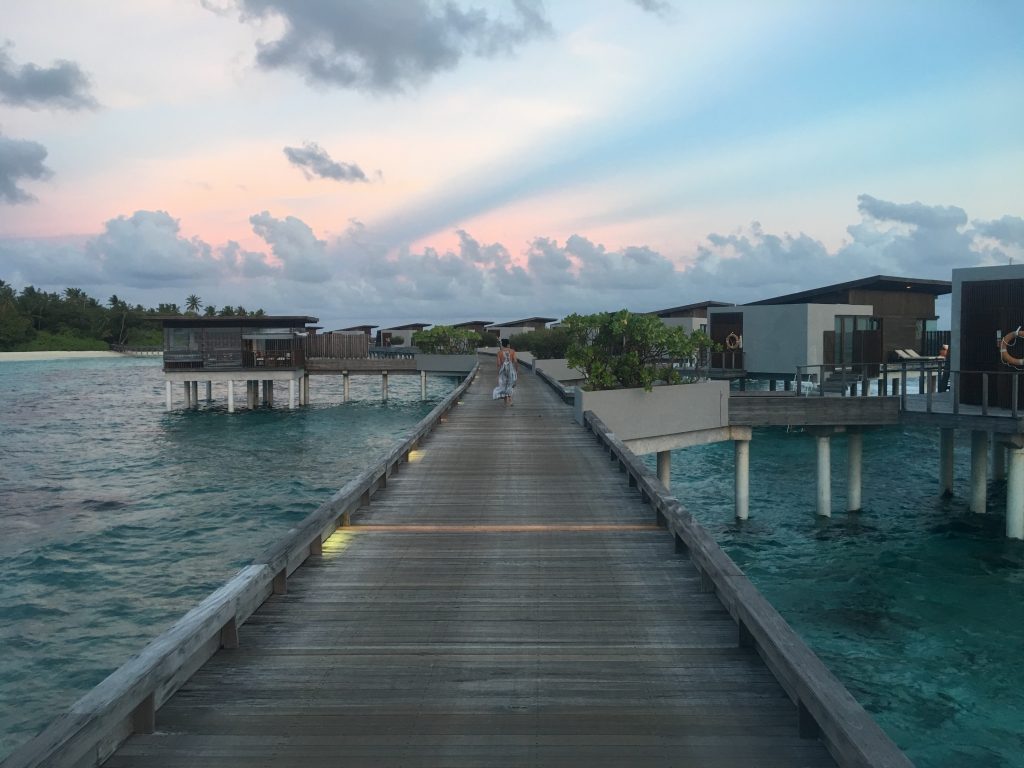 Park Hyatt Hadahaa Maldives is so beautiful. When you arrive you will be stunned! There is no place like it. What I love so much about Park Hyatt Maldives Hadahaa is how exclusive this resort feels. You get to know pretty much everybody on the island because of how exclusive this resort really is. I did want to mention the food; which I am sure you are curios about as well. I do not have any photos of the food. Surprisingly and I can not believe this happened to me, I SOMEHOW dropped my phone in the Maldivian Crystal Clear water and I lost a lot of my photos towards the end of the trip. Super bummer; however, every meal here at Park Hyatt Maldives Hadahaa was outstanding! So Delicious. The Hyatt Staff at Park Hyat Maldives Hadahaa, and to be honest all of Hyatt in general , want to make sure you have the best experience as possible. Making sure to have the best experience as possible, the Hyatt Staff Team Cordially has the chef meet with customers for any special requests and/ or feedback of the meals they enjoyed/ or prepared. Overall Experience was outstanding. I will be headed back to Park Hyatt Maldives Hadahaa one day.
25,000 Hyatt Points Per Night (Beach Villa) – Chase Ultimate Rewards is a Transfer Partner to Park Hyatt Maldives. Chase Ultimate Rewards Transfers to Hyatt 1 to 1.
Chase Bank is Offering the Chase Ink Business Preferred Credit Card. Apply Here. This Credit Card is Offering 80,000 Ultimate Rewards Bonus Points if you spend $5000.00 in the first 3 months. If your able to spend $5000.00 within three months because of normal daily spend/ Expenses this is a great card to have. Read more about this card in a later post. 80,000 Ultimate Rewards will allow you to redeem 3 Nights Here at the Park Hyatt Maldives Hadahaa and have 5000 Ultimate Rewards Points left over.