How do I book an Award Flight Using Chase Ultimate Rewards?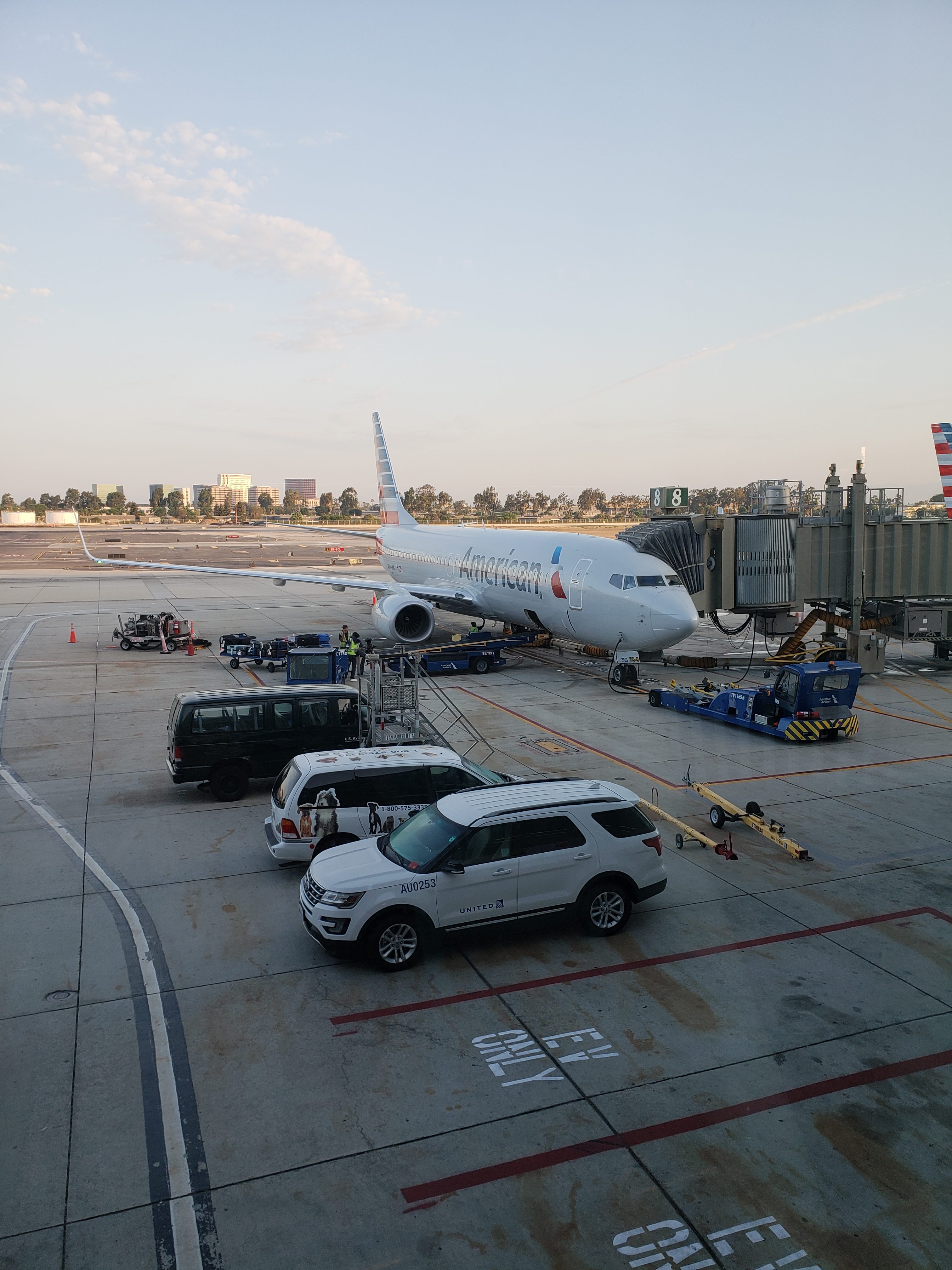 How do I book an Award Flight Using Chase Ultimate Rewards?
So many, and I am talking about many, many, many people do not know how to book an award flight. In my opinion Airlines do this on purpose. I am sure they would rather have a Cash Paid ticket then a points paid ticket. I am sure you have heard the saying, "Cash is King." Though at times it maybe better to use cash to pay for the ticket there are many instances its in your best interest to book your flight with Ponts/ Miles. I am going to show you how to book a flight with Chase Ultimate Rewards. First Go to Chase Bank's Rewards website www.ultimaterewards.com and Log in Using Your Chase Banks username and password. Once your signed in you will see something like this. In my case i have two Chase Ultimate Rewards Credit Cards The Chase Freedom and the Chase Ink Plus. You can combine/pool both accounts points together. Click One of the accounts and move forward to the next screen below.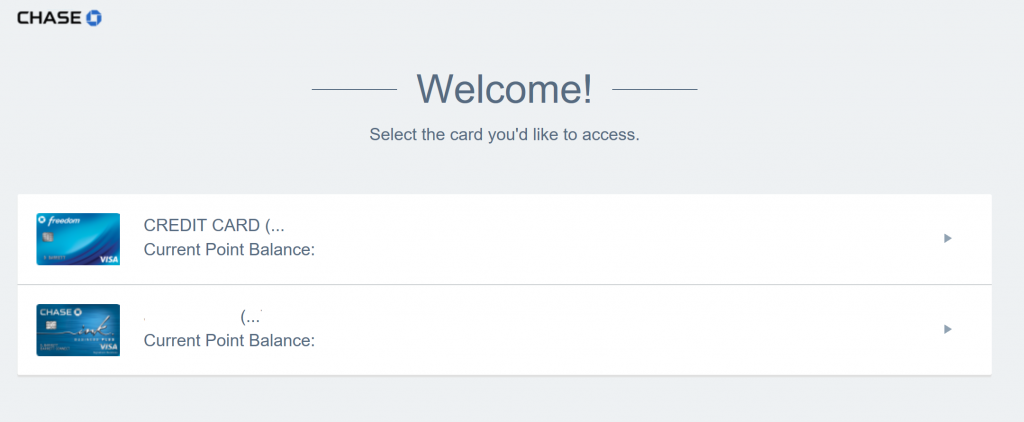 After clicking one of the Chase Ultimate Rewards Credit Cards accounts you will see the below screen. Click Transfer to Travel Partners. You See I drew a nice perfect circle around it.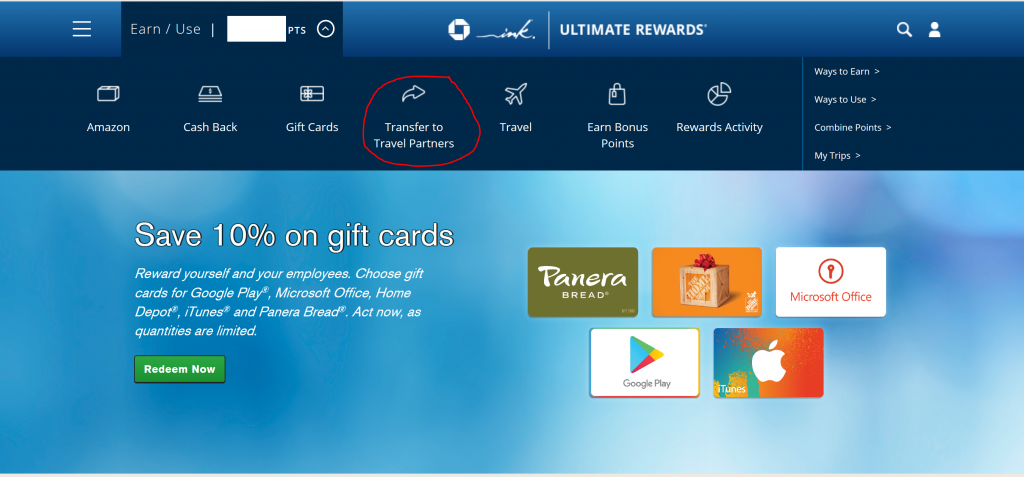 After you click transfer to travel partners you will see a list of Chase Transfer Partners that you Can Transfer your Ultimate Rewards to. Chase Has the Following Transfer Partners:
| Partner Rewards Program | Average Point Value | Ultimate Rewards Transfer Ratio | Partner Industry |
| --- | --- | --- | --- |
| British Airways Executive Club | 1.5 | 1:1 | Airline |
| Flying Blue AIR FRANCE KLM | 1.3 | 1:1 | Airline |
| Korean Air SKYPASS(Ending 08/25 | 1.0 | 1:1 | Airline |
| Singapore Airlines KrisFlyer | 1.5 | 1:1 | Airline |
| Southwest Airlines Rapid Rewards® | 1.2 | 1:1 | Airline |
| United MileagePlus® | 1.2 | 1:1 | Airline |
| Virgin Atlantic Flying Club | 1.5 | 1:1 | Airline |
| Hyatt Gold Passport® | 0.98 | 1:1 | Hotel |
| IHG® Rewards Club | 0.64 | 1:1 | Hotel |
| Marriott Rewards® | 0.85 | 1:1 | Hotel |
| The Ritz-Carlton Rewards® (Merging with Mariott- 8/18) | 0.68 | 1:1 | Hotel |
We do not have time to go over all of Chase Banks Transfer Partners; however, you can check out my other posts for more info. For now we will use British Airways.
Lets say you wanted to fly from Santa Ana Orange County, California to Chicago Illinois. And I use this example because its convenient for me and since my In-Laws own a awesome place in Chicago I use this route quite a bit. How bout some Italian Beef, Chicago Pizza – Giordano's, Au Cheval, List Goes ON….. Alright so lets book a a trip to Chicago. 08-24-2018 One Way Flight from Santa Ana Orange County John Wayne Airport to Chicago, Illinois O'Hare Airport using Points on British Airways.
Click British Airways – See Picture Below. You See the Nice Red Perfect Rectangle This time. Click Transfer Points.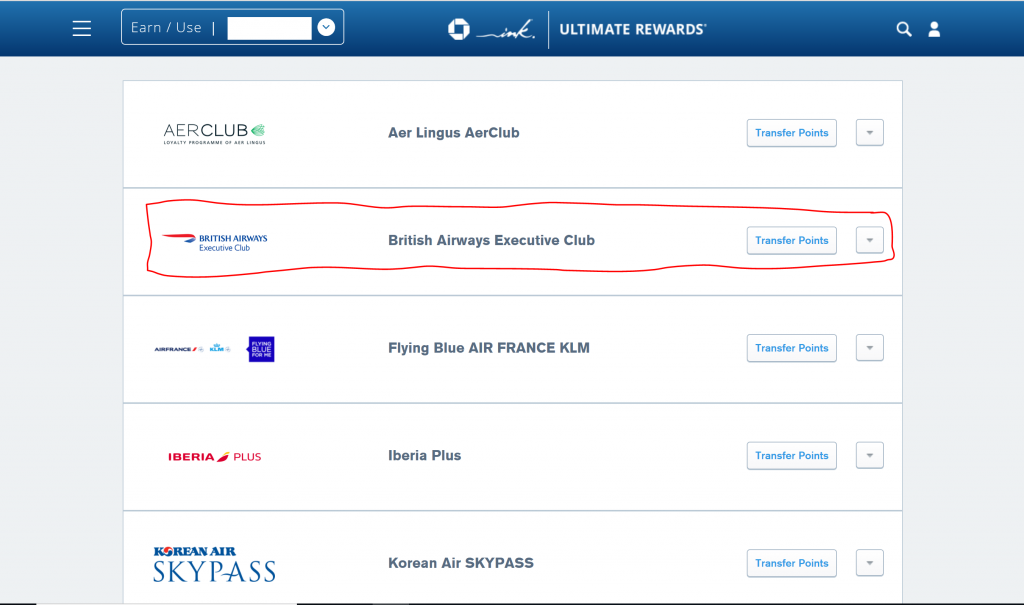 After you Click Transfer Points it Will ask you to Enter your Frequent Travel Program Number. You Need to Sign up For a British Airways Executive Club Membership Number. You can do that at www.britishairways.com. Head There and Create One. The Register Now Button is Next To the Login. Here I will make it easier For You. Register Here
After you have registered on www.britishairways.com,Enter Your British Airways Number in the appropriate field. Check out the picture below.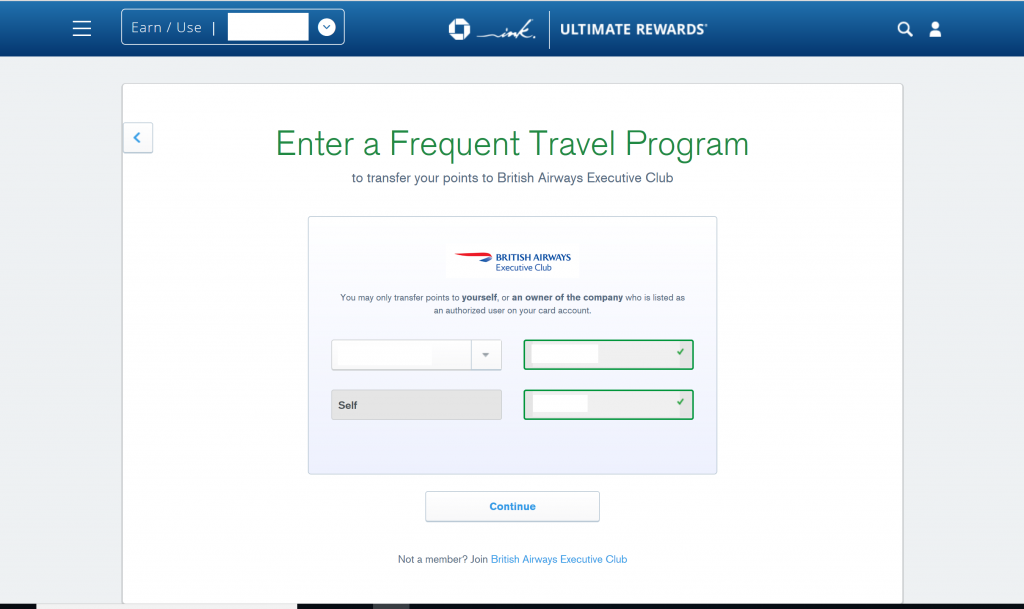 The next screen will allow you to transfer Chase Ultimate Rewards to British Avios. The transfer rate is 1 to 1. Meaning 1 Ultimate Reward will give you 1 British Avio. In this Case we need 10,000 Ultimate Rewards points which will give us 10,000 British Avios to Fly From Santa Ana Orange County to Chicago.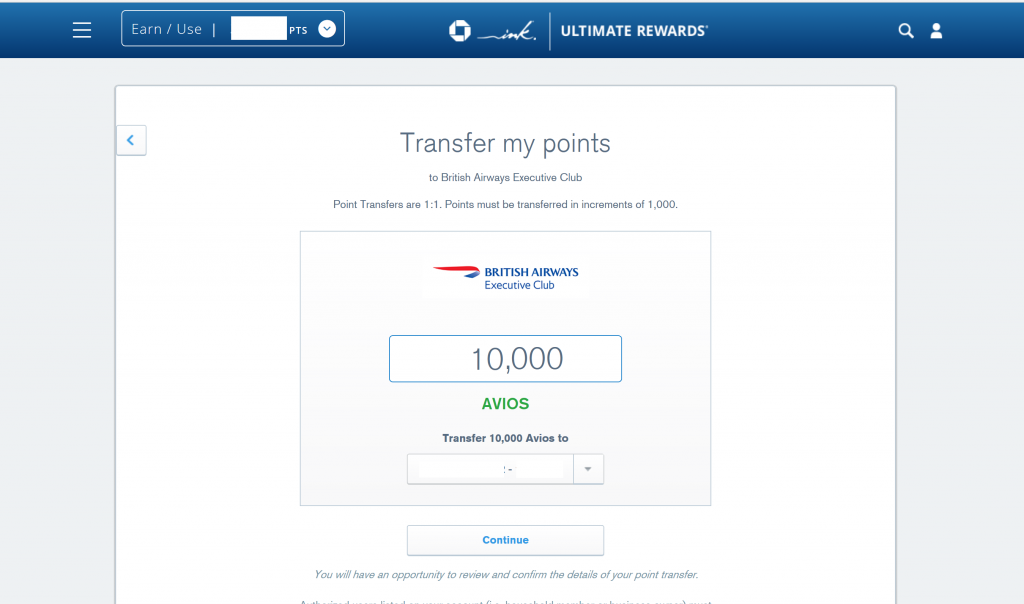 The Transfer is instant. If your signed into your British Avios account on www.britishairways.com While your making the transfer you will need to sign out and sign back into the British Avios website to see the new added points/avios. Now that you have 10,000 Points / Avios lets book that flight.
Head to www.britishairways.com and Sign In. Once Yours Signed Click Executive Club and then Click Spending Avios. See Picture Below.
After You Click Spending Avios Scroll Down and Click Book Reward a Flight – See Picture Below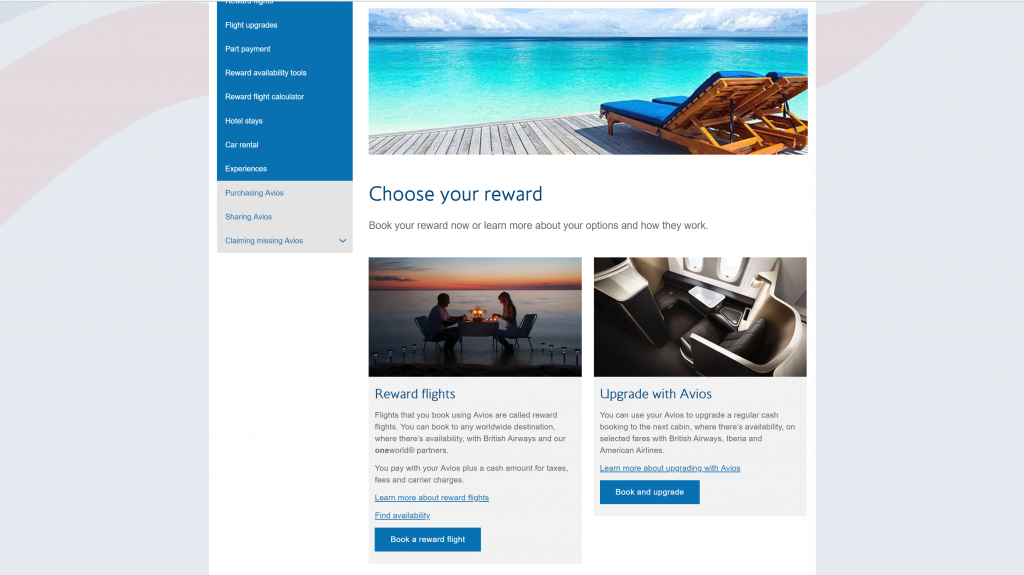 Wow I didn't realize how many steps this was till now haha. Type In Santa Ana in the FROM Spot and Chicago in TO Spot and the date and in this case I am going to put 08/24/2018 – See Picture Below.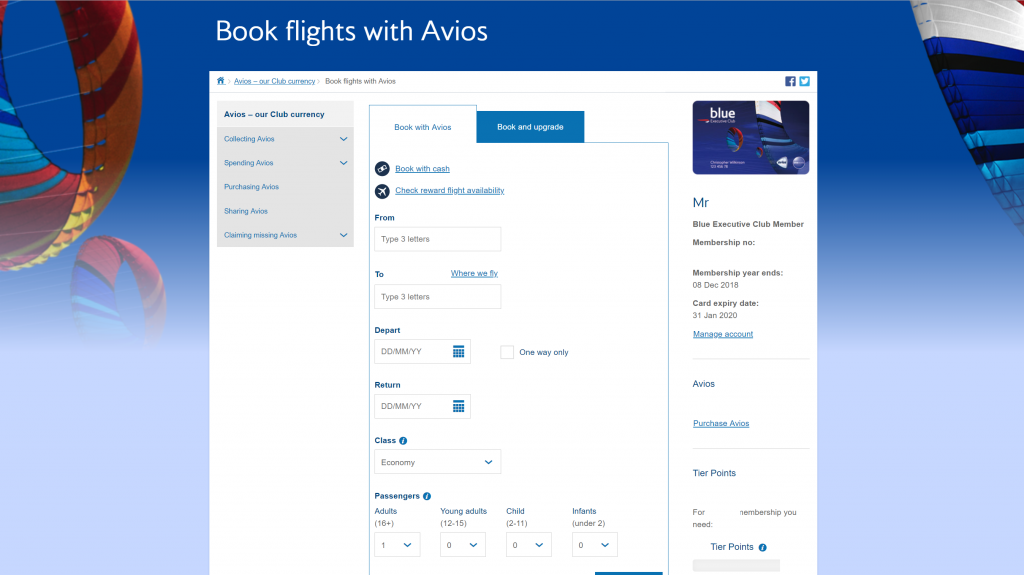 Now the Search Results will populate. 7 Seats Left – Non Stop Flight. This Flight Should Only Be 10k. It Should Also Be Noted that you are Flying American Airlines which is One of British Airways Partners – Continue On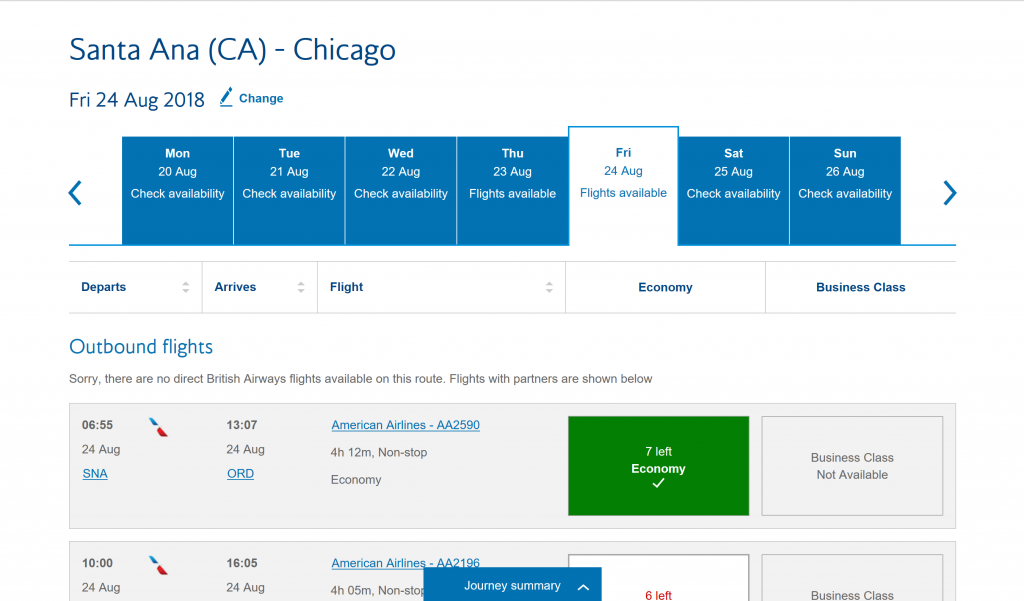 Sure Enough It is. 10K – See Below.

Done! You Just Booked Yourself an Economy Flight From Santa Ana, California to Chicago, Illinois using Points. Have Fun!
NOTE: BEFORE YOU TRANSFER POINTS MAKE SURE THE FLIGHT CAN BE BOOKED USING POINTS.