Why I am Booking Marriott / Starwood Hotels Before Jan 1, 2019!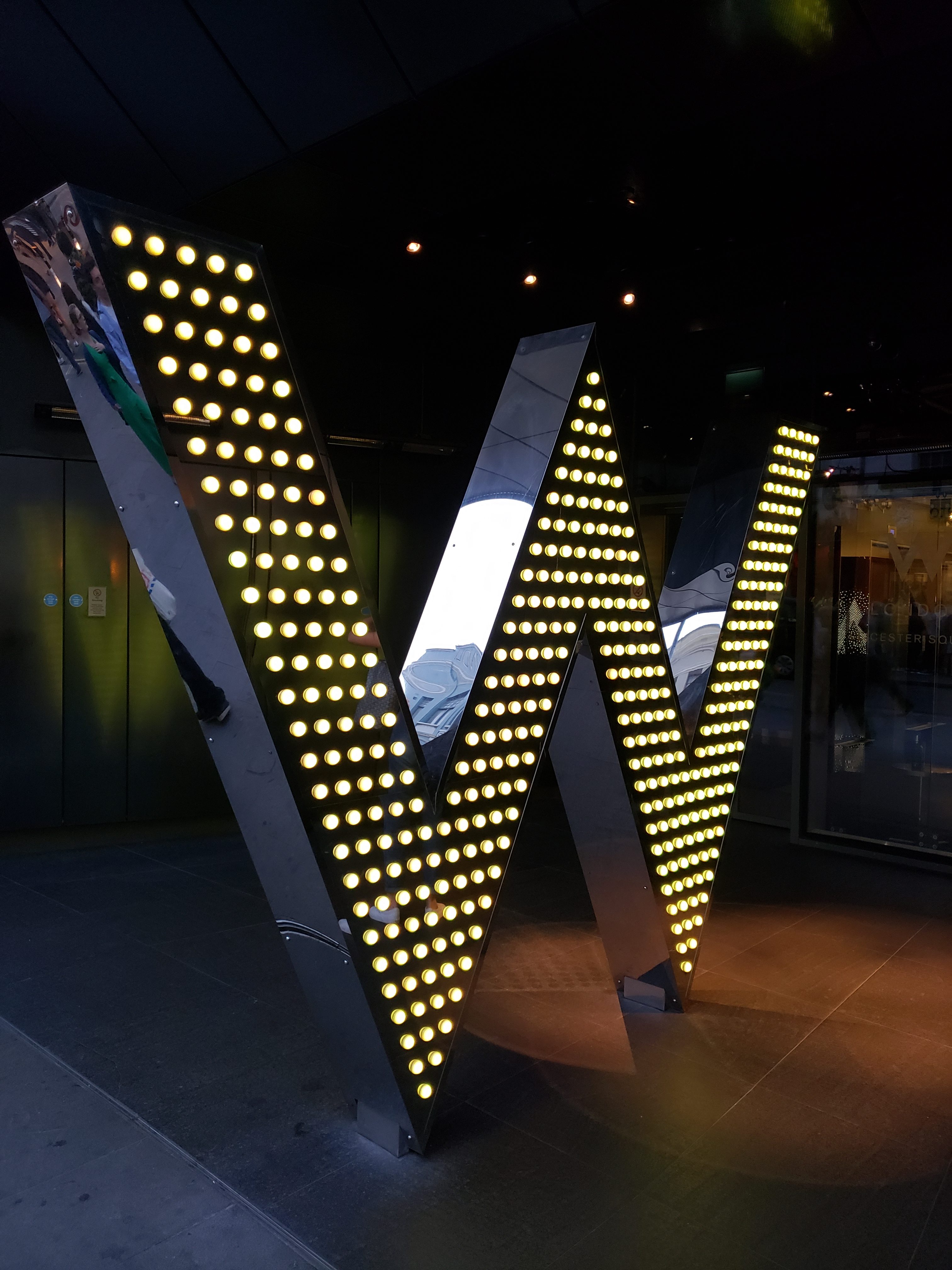 Why I am Booking Marriott / Starwood Hotels Before Jan 1, 2019
Book Before Jan. 1st 2019 and Stay Anytime Between Now and End of 2019. You Can Book a Year In advance or Close to It.
Jump Start your Points Balance by Applying Now for the Starwood Preferred Guest Credit Card. CLICK HERE
See More Info Regarding Credit Card at Bottom of Page
Please remember to use my Referral Links if you would like to apply for a Card. This helps me. Thank you.
I am sure you know that Marriott Bought Out Starwood SPG a couple years back. Both Programs actually stayed separate for quite sometime after the news broke out the Marriott had Bought Starwood. Recently though, Starting August 18, 2018 Marriott – Starwood – Ritz Carlton would become one rewards program. Since the merge there has been tons of issues regarding the rewards program from Reservations disappearing, Points from All Programs Not Merging, Bookings Not able to be made, etc. Literally A Mess. Also there has been a lot of issues with Loyalty regarding the Loyalty of Starwood/ Marriott Member and there Elite Status. This has all been happening; however, I am really only concerned with Bookings for the moment. I am very anxious to book and I am sure others are as well; because, Marriott has given us the Points Award Chart, and it is very surprising. Please See Below.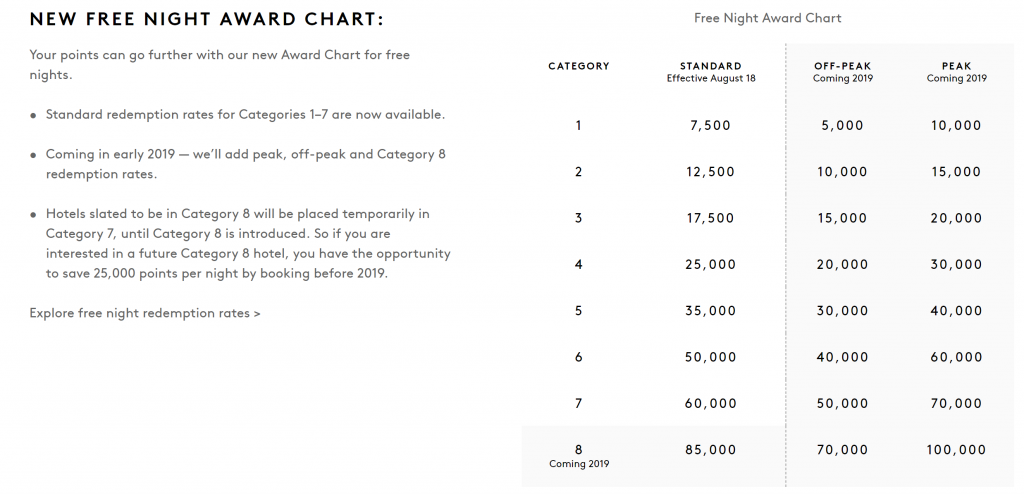 Above is the New Marriott Award Chart that Marriott has been released since the Merge. If you look closely Category 8 is coming 2019. What this means is that all Category 8 Hotels can be booked at the 60,000 Standard Points Rate Until December 31,2018! It should also be noted that off Peak and Peak rates do not start until January 1st, 2019. This is great news! You Have to book your reservation before December 31,2018; however, you can stay anytime in 2019 as long as the award availability is available. Again This is outstanding! If you have Marriott Points and are planning a trip soon this might be a great time to book. American Express Points and Chase Ultimate Rewards are Marriott Transfer Partners. Most Marriott – Starwood – Ritz Carlton Resorts Category 8 Hotels you can Book with 60,000 Marriott Points. Get even more value by booking 5 Nights with points and receive the 5th Night Free. Lets take For Example the Ritz Carlton New York.

Above is the Cash Rate for the Standard Deluxe Room at the Ritz Carlton New York Central Park. A whopping $1,171.00 Per Night. Total for Night Nights $5,855.00.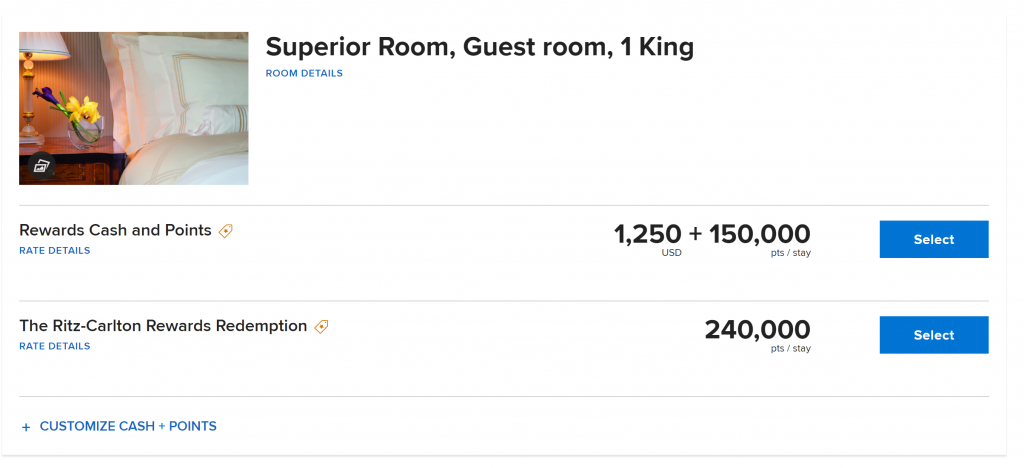 Above is Using 240,000 Marriott Points for 5 Nights using all Marriott Points. This includes the 4th Night Free. One night will cost you 60,000 Marriott Points;however, booking 5 Nights you will receive the 5th Night Free Dropping the Marriott Points rate down to 48,000 Points and again the total for a 5 night stay equals 240,000 Marriott Points. Another Option you you Could do is a Cash and Points Rate (See Above) $1250.00 + 150,000.00 Marriott Points. Crunch the numbers and decide what is best for you. Lets see if we can get even more value at another hotel. Lets Stay at the St Regis Maldives using points vs cash.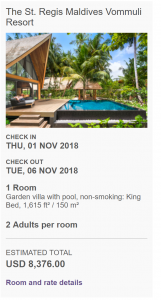 Total for 5 Nights at the St Regis Maldives would be $8,376.00 in the Garden Villa. This Garden Villa Fluctuates in price depending on availability and the season. I have seen it over $10,000.00. $8376.00 is a lot of money. It should be noted this Cash Rate is the taste of luxury package where the 4th night is free and breakfast is included. Now lets use points.

Above you will see the Points Rate at 48,000 Points Per Night. This is because I booked a 5 Night Stay. Points are usually 60,000 Points a Night; however, with a 5 night stay I will be getting the Garden Villa at 48,000 Marriott Points. Total Marriott Points 240,000 for a Garden Villa at St. Regis Maldives.
The reason I am so anxious about booking this, as mentioned earlier in the article Marriott is going to raise the Points Prices of all Marriott Properties that are Category 8 to 85,000 Points Per Night coming January 1st, 2019. This means the two properties mentioned above instead of Costing 240,000 for 5 Nights , will cost 340,000 and slightly more or less depending if its Peak Season or Off Peak Season. That's a 100,000 Marriott Points Difference More or less.
It should be noted that I have been making reservations in the Marriott App on the Apple Iphone and Android Phone. The Marriott Website doesn't seem to work fully. I have a friend that was able to book by calling; However, Like I mentioned for me the app on the phone worked great.
Jump Start your Points Balance by Applying Now for the Starwood Preferred Guest Credit Card. CLICK HERE
Earn 75,000 Bonus Points after 3 Months
Earn 6X Points Spent at all Marriott / Starwood / Ritz Carlton Branded Hotels
Earn 2X Points On All Other Purchases
One Free Night Per year at a Hotel at or Under 35,000 Points
Silver Elite Status
No Foreign Transaction Fees
Premium Internet Access at Hotels Properties
$0.00 Introductory Annual Fee Waived then $95.00 Annual Fee Per Year