Emirates First Class – "The Game Changer" – Boeing 777 Points & Miles Review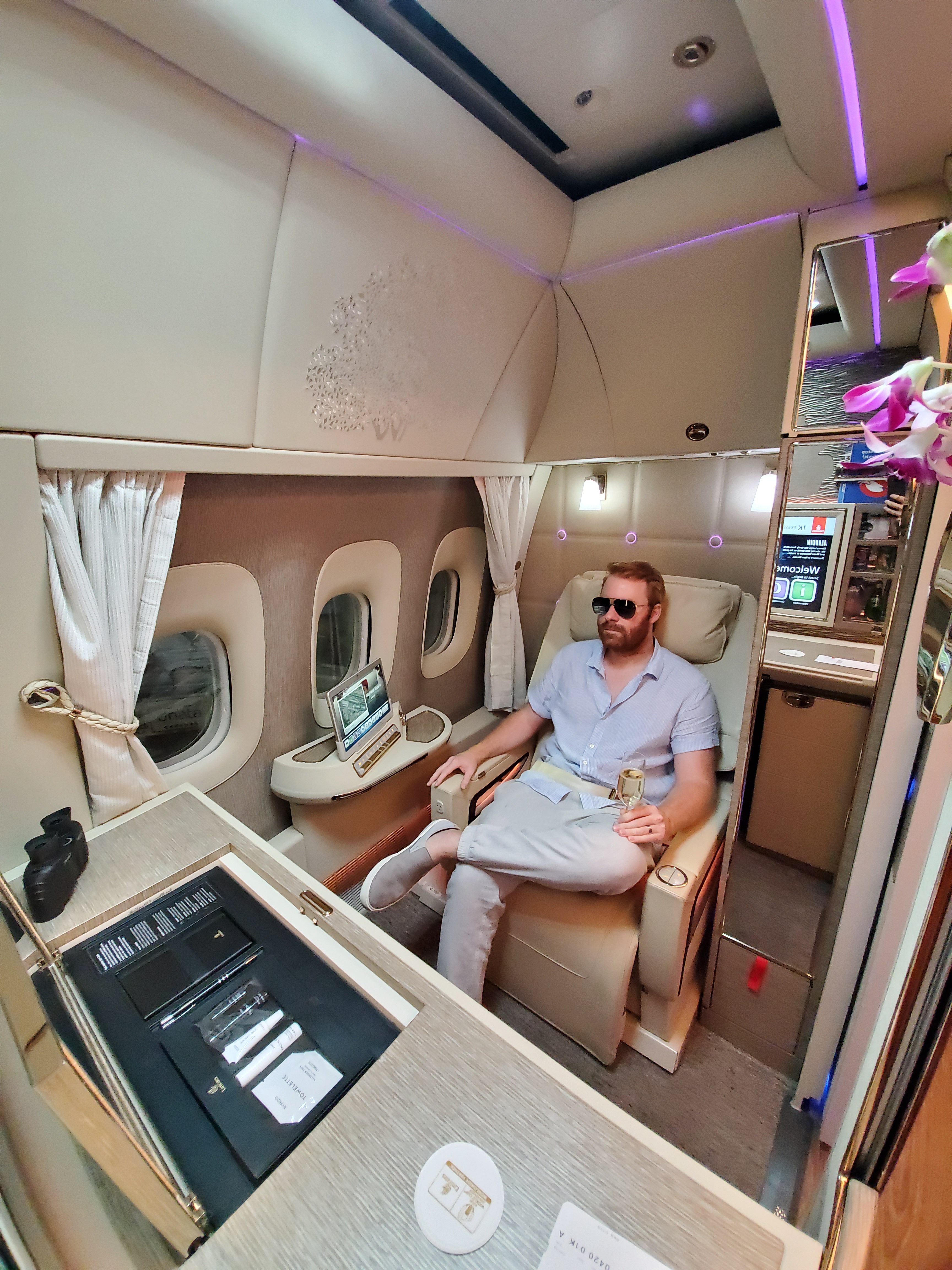 Emirates First Class – "The Game Changer" – Boeing 777 Points & Miles Review
The Emirates Boeing 777 brand new First Class fully enclosed suites! Words can not describe how beautiful this aircraft is! It is truly one of a kind! Emirates has two different aircraft's that offer first class, which include the Boeing 777 and The Airbus A380. Though the Airbus A380 has an on-board shower and an on-board Bar & lounge Area, the New Retro-Fitted Boeing 777 offers the worlds FIRST fully enclosed First Class Suite! Both have their pros and cons but in this post lets focus on the Boeing 777's brand new First Class Fully Enclosed Suites and how I redeemed this with points!
Dubai International Terminal – First Class Game Changer Banner at Main Entrance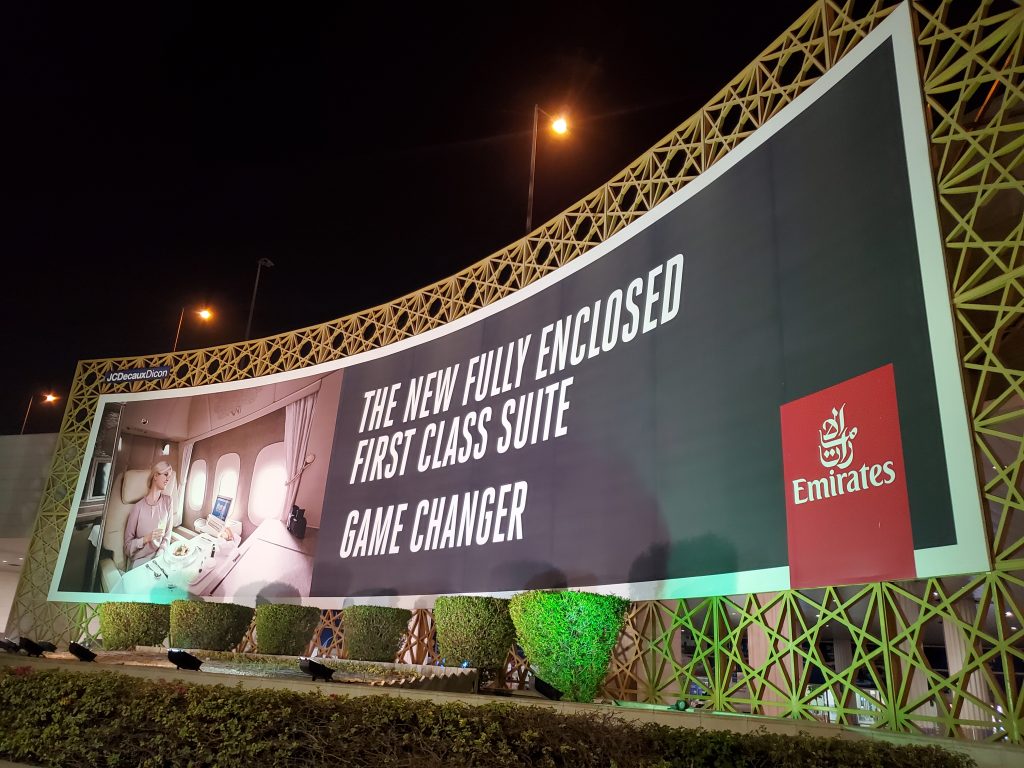 Dubai International Airport First Class Check-in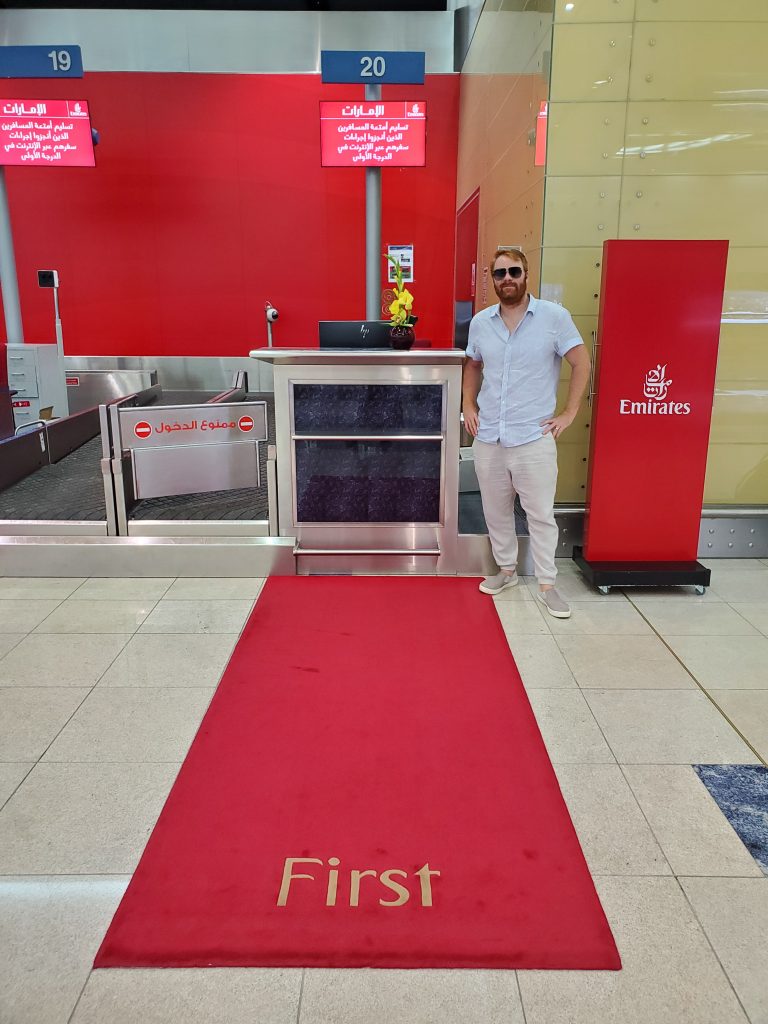 Entrance of Aircraft Boeing 777 New Emirates First Class "Game Changer"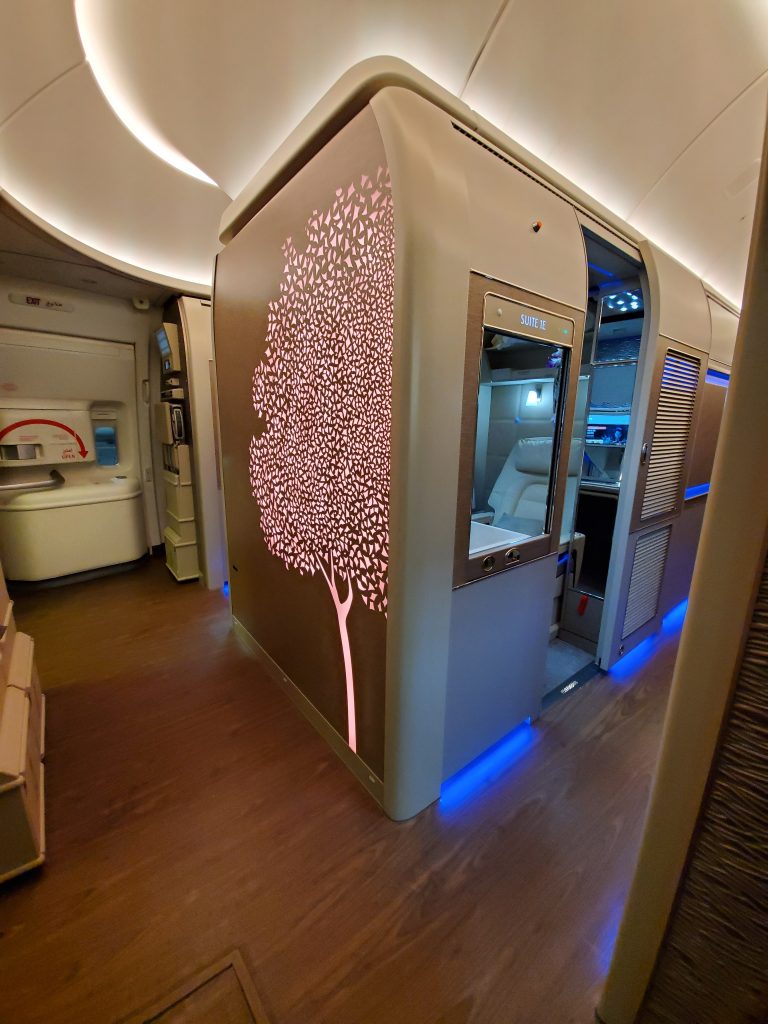 Changes Color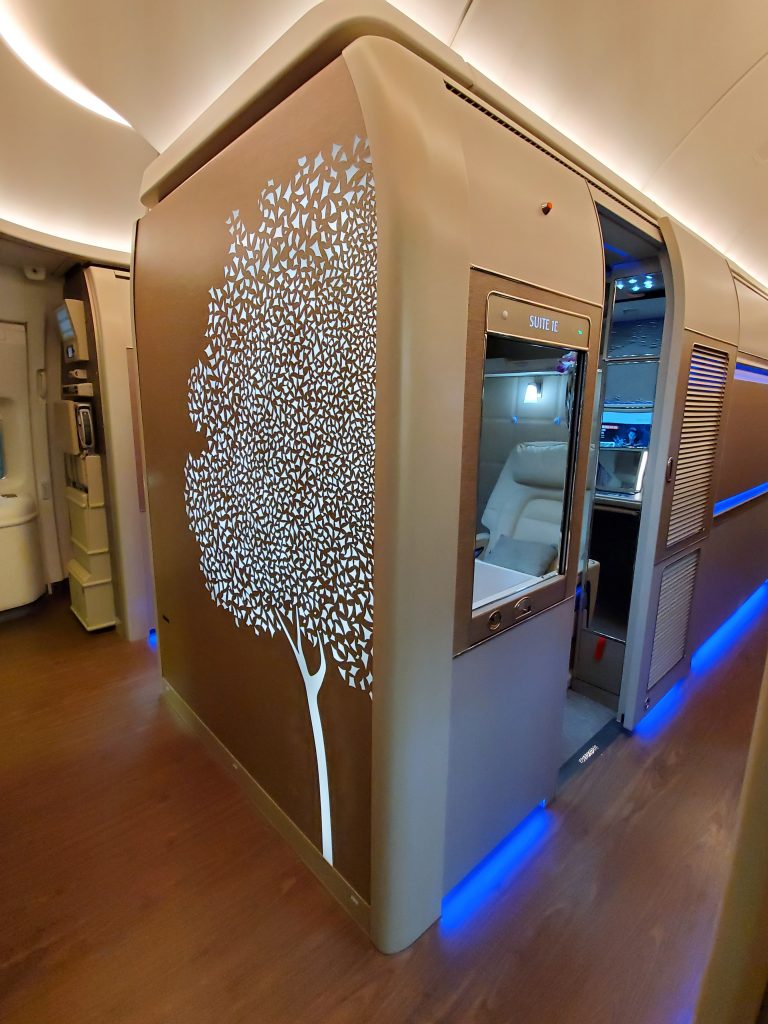 Night Mode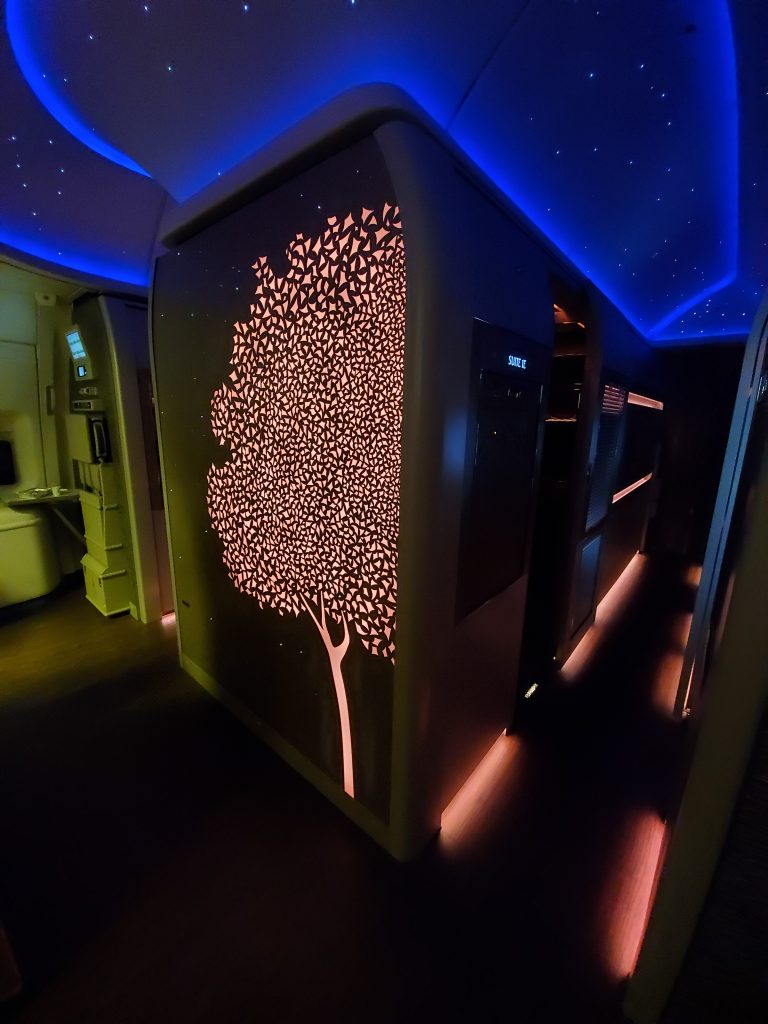 The "Game Changer" Fully Enclosed Suites
The Emirates First Class Game Changer Fully Enclosed Suites are out of this world. The Suites are so massive it feels like your in a hotel room! The Boeing 777 Game Changers First Class consists of 5 Fully Private Enclosed Suites. Two of the five suites have the worlds first aircraft virtual windows. These virtual windows look incredibly real. Additionally, every suite is equipped with an Ipad looking device that can control almost anything you want! It controls the windows shades, the massive television, setting the lights to your desired mood, or calling the Flight Attendant for some Dom Perignon…lets not forget about the big pours of Hennessy Paradis!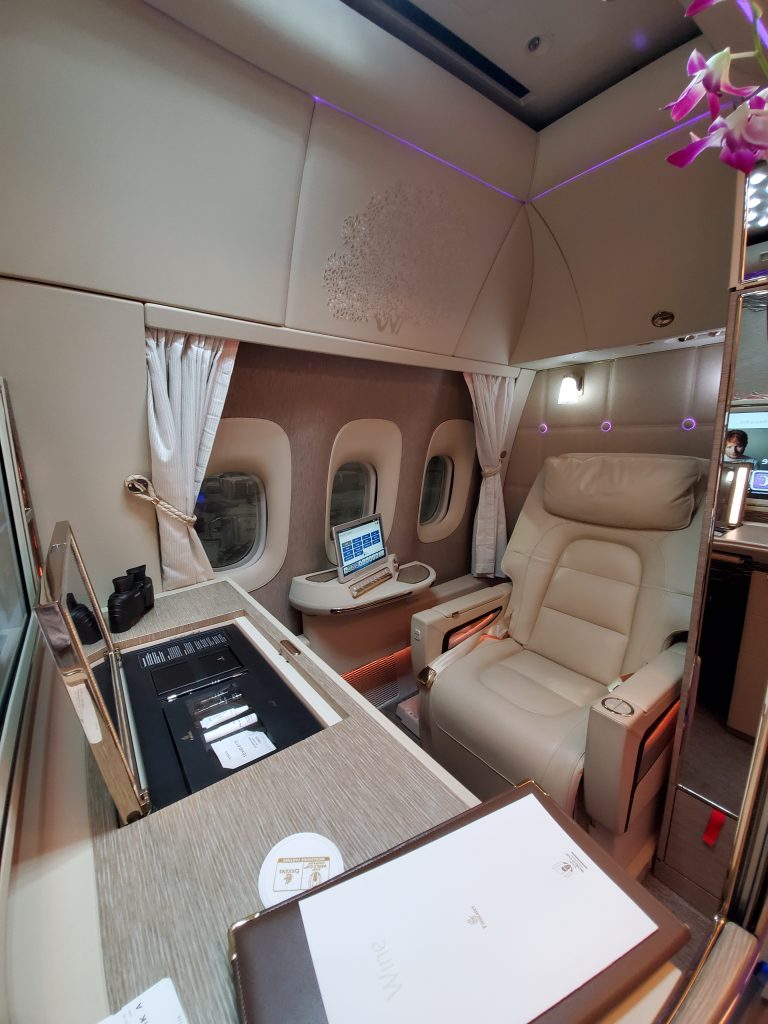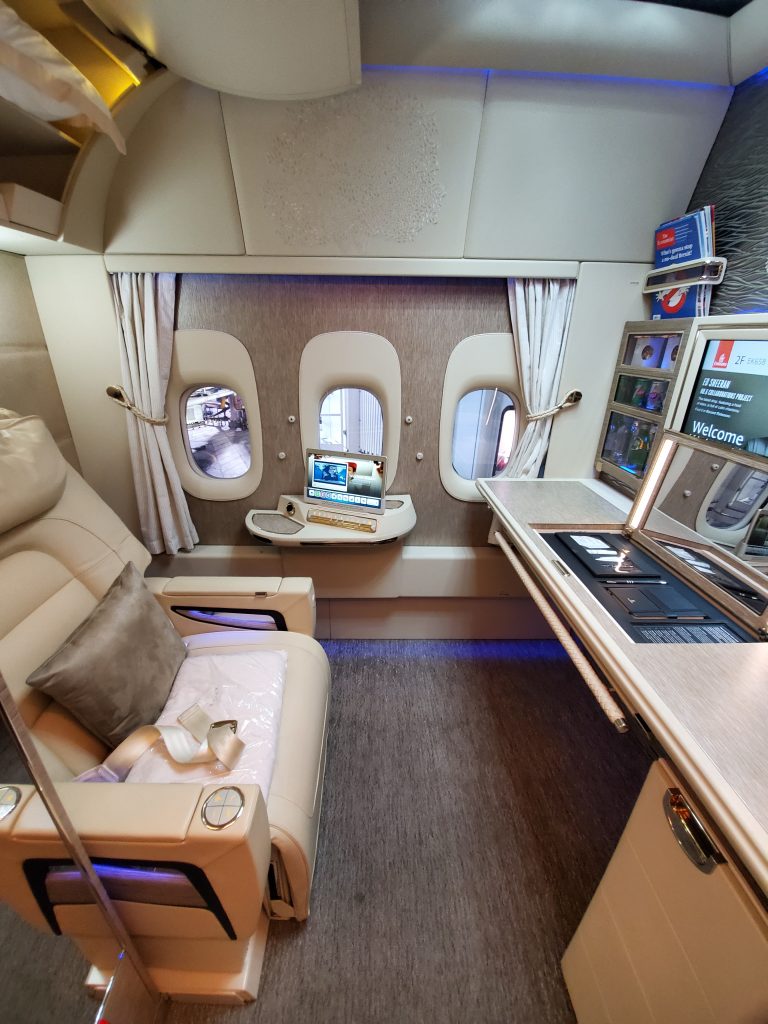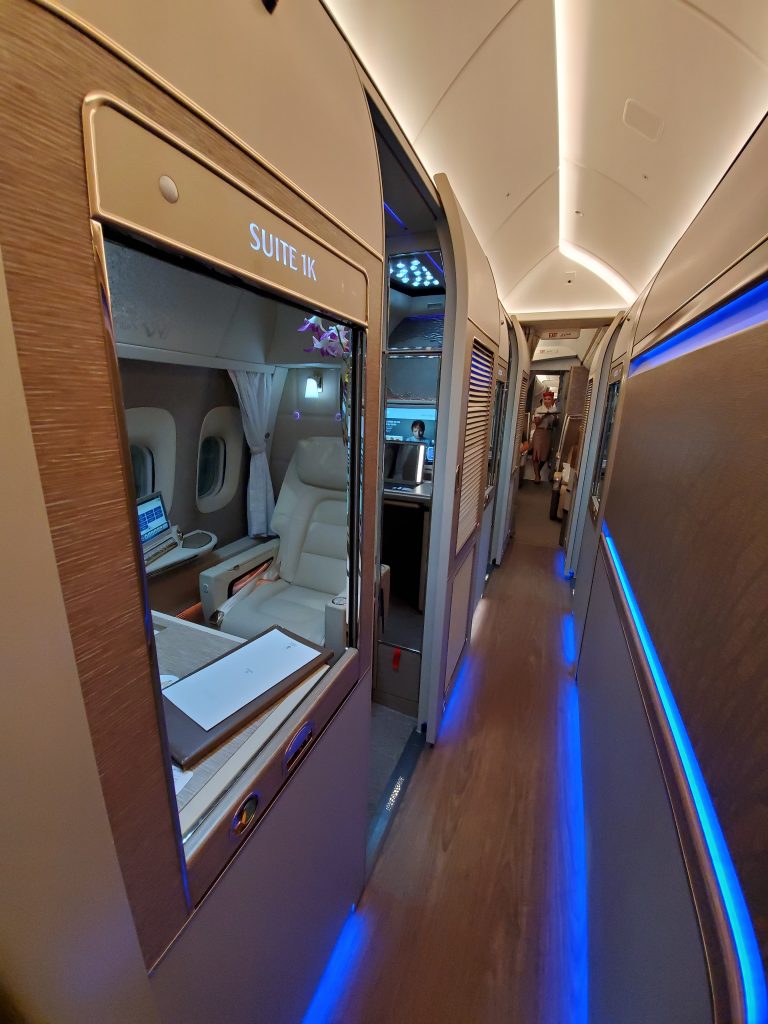 Complimentary Hennessy Paradis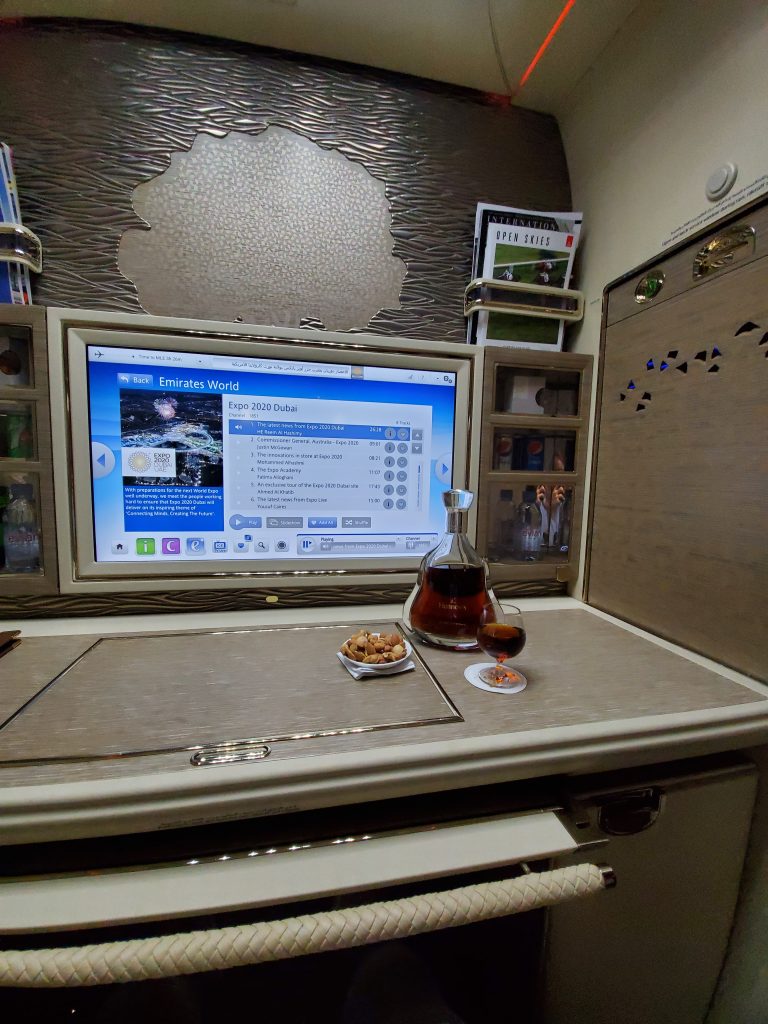 Breakfast of Champions Hennessy Paradis With My Delicious Scrambled Eggs (Emirates Food Never Dissapoints!)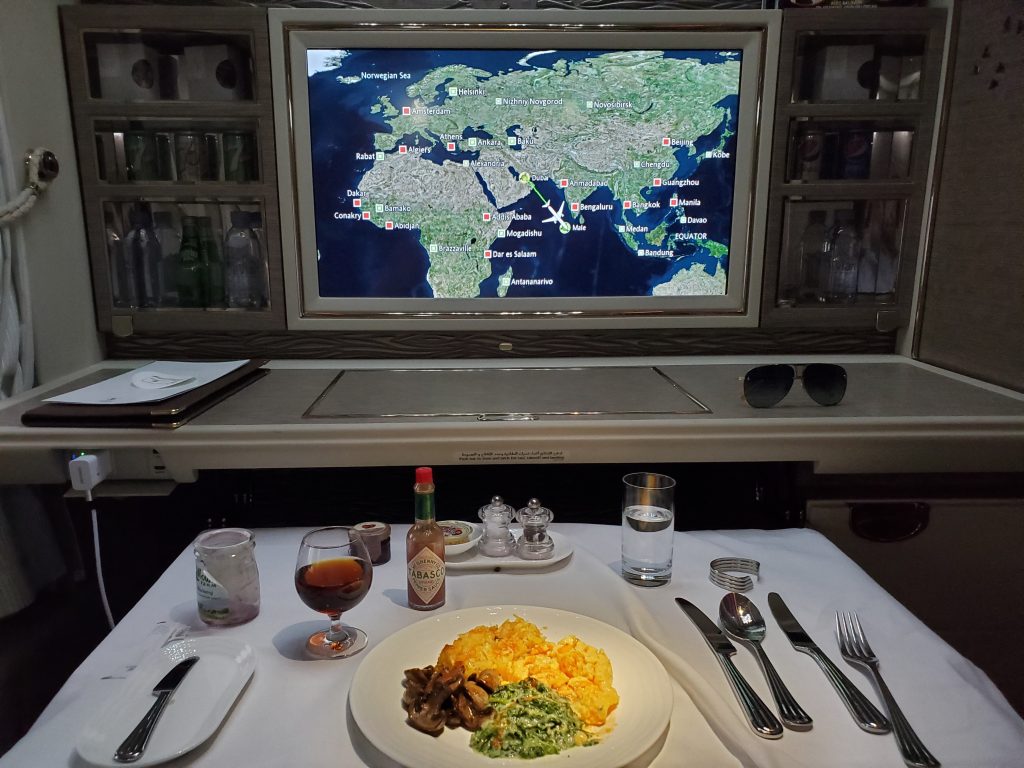 Emirates First Class Game Changer has The Worlds First Aircraft Virtual Windows which are located in the Middle Fully Enclosed Suites Only. (Pictures Below)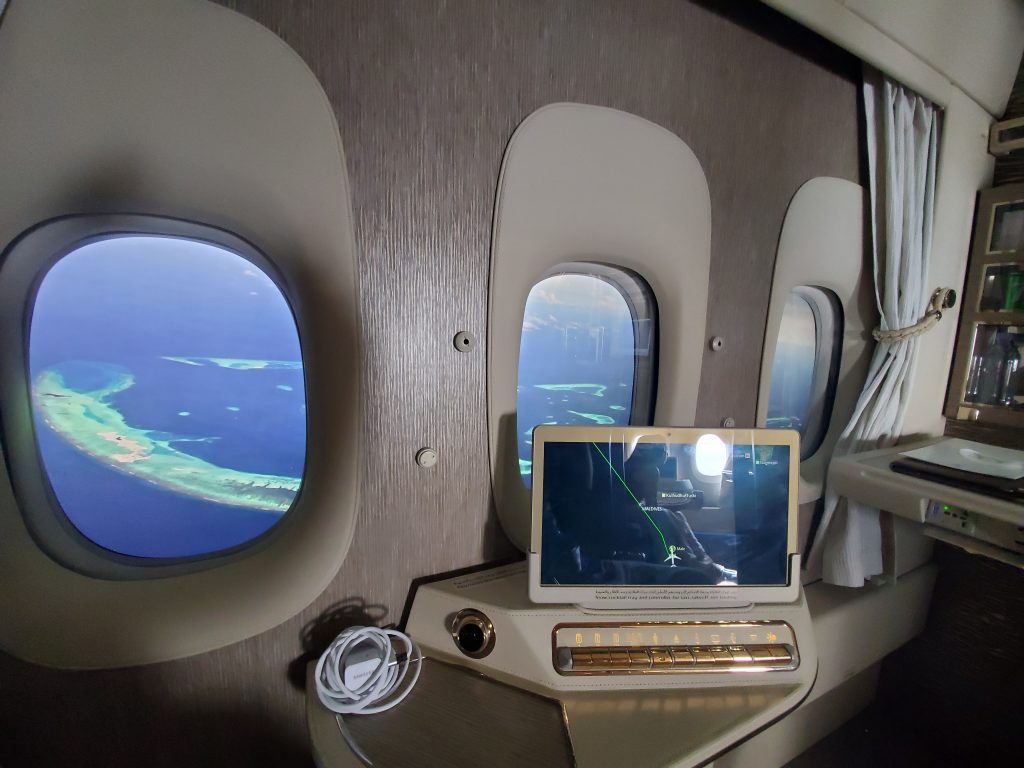 How Did I Redeem?
Qantas Club -Normally 54,000 Qantas Points (Read Below How I Got This for 37,000 Points)
DXB-MLE Emirates A380 First Class
Citi, Amex, Capital One all Transfer to Qantas Club
If your looking to fly Emirates then your going to have to pay up whether that is using cash or points. In most cases, using points will still require a hefty amount of taxes and fees when booking. Their are a few different programs that allow you to book Emirates including there own; Emirates Skywards, Alaska Mileage, Japan Airlines Mileage, Korean Air, and Qantas Club. In this case I used Qantas Club. Recently American Express had a 20% transfer bonus to Qantas Club and on top of that, Qantas also had a promotion for a transfer bonus from American Express for an additional 20%. This had a big impact on why I decided to use Qantas Club. Now interestingly enough these transfer bonuses were NOT supposed to stack. Meaning, I should have only been able to redeem one the 20% bonuses when transferring points from American Express to Qantas Club. To my surprise, both transfer bonuses stacked on top of each other ending in a double dip! Incredible! See below.
Qantas Club Points Cost: 54,000 Points For This First Class Game Changer Flight from DXB to MLE
The Breakdown: I transferred 38,000 American Express Membership Rewards to Qantas Club and with the 20% Transfer Bonus American Express offered, it gave me a grand total of 44,600 Qantas Club Points. Once the points entered my Qantas Club Account, Qantas gave me an additional 20% bonus towards the 44,400 Qantas Club Points which would now give me a grand total of 54,720 Qantas Club Points. This would be enough for a one way flight from DXB to MLE on the beautiful Emirates First Class Game Changer.
As of September 18, 2019 Qantas Award Chart Has Been Changed (Devalued)
The flight I took from DXB-MLE is now 62,200 instead of 54,000. Qantas award chart is based off distance flown. For example, if you flew from Los Angeles, California to Sydney, Australia in First Class the total distance in miles would be 7,497 Miles which would cost you 162,800 Qantas Points in First Class. See Chart Below.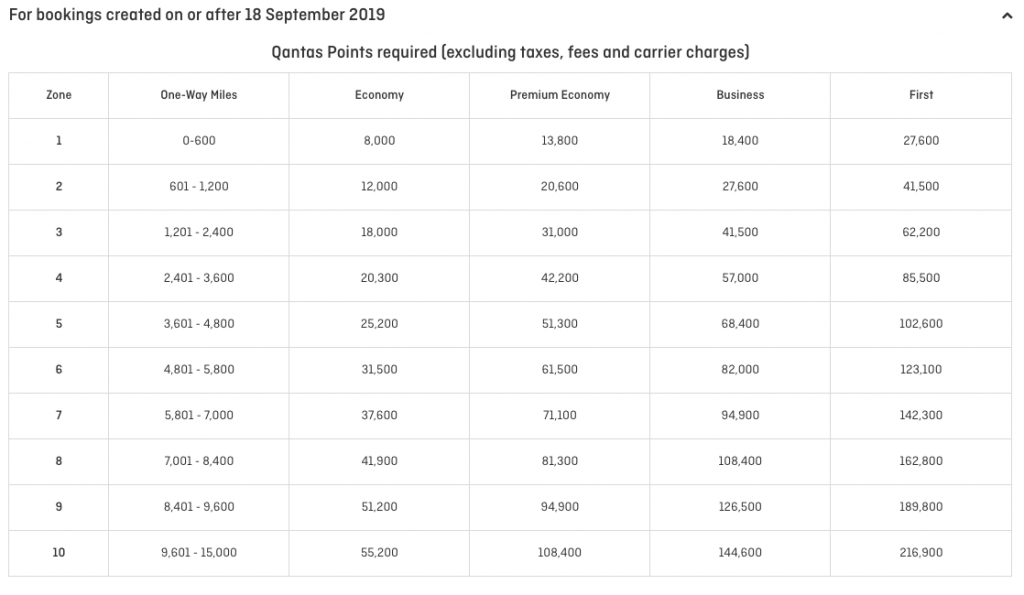 What routes does the Game Changer fly?
Google is your friend.
Here are some of the routes that the Game Changer fly's.

This is subject to change and may not be accurate by the time you read this.

Please note that Emirates may change the aircraft last minute like they did to me when I tried flying the Game Changer from VIE – DXB.
Middle East
KWI (Kuwait) – DXB (Dubai) Flight # EK855 / EK856
MLE (Male) – DXB (Dubai) Flight # EK658/ EK659
RUH (Riyadh) – DXB (Dubai) Flight # EK819 / EK820
Europe
VIE (Vienna) – DXB (Dubai) Flight # EK126/ EK125
STN (London Stansted) – DXB (Dubai) Flight # EK33/ EK34
BRU (Brussels) – DXB (Dubai) Flight # EK181/ Ek182 and Ek183/184
GVA (Geneva) – DXB (Dubai) Flight # EK89/EK90 And EK83/EK84
FRA (Frankfurt) – DXB (Dubai) Flight # EK43/ EK44
Asia Japan
HND (Tokyo) – DXB (Dubai) Flight # EK312 / EK313
I also want to make sure I share this tip with you, ALWAYS check the seat map of your flight # and aircraft to ensure the flight is indeed the Emirates New First Class Game Changer. The old First Class seat map looks like this (pictured below). If you see this seat map with 6 Seats this is NOT THE FIRST CLASS GAME CHANGER.
The New Emirates First Class Game Changer seat map has 5 seats and looks like this (pictured below). If the seat map has 5 seats, THIS is the New Emirates First Class Game Changer aircraft.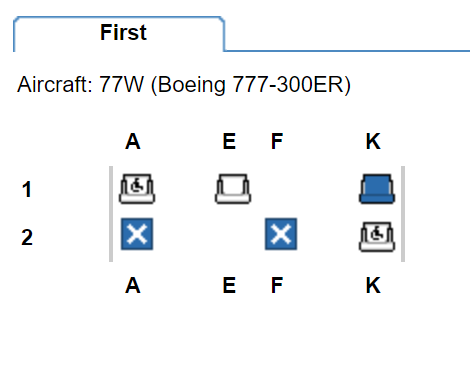 To find a seat map, create an account at www.expertflyer.com
Learn more about points! Follow me on Instagram: EyesOnThePoints